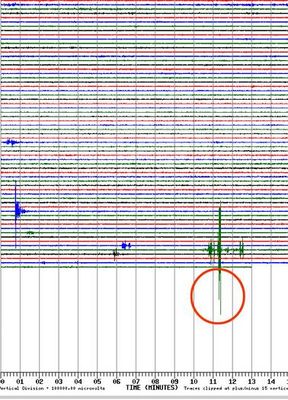 Tremors that Ocean City residents reported feeling around midday Thursday did not come from an earthquake, seismologists said, but may have come from supersonic flights from Patuxent Naval Air Station.
"The data is very inconsistent with any kind of earthquake activity," Maryland Geological Survey Director Richard Ortt said. That was because the timing of the tremor's detection by various sensors did not match the time it would be expected to take for a seismic event to ripple through the Earth's crust, he said.
The source of the tremors remains unknown, Ortt said. Sometimes sonic booms, explosions or other blasts can be confused with earthquakes, he said.
Air station spokeswoman Connie Hempel said the Navy conducted two supersonic flights off the coast Thursday, though she did not know what time they were scheduled for.
Residents of the beach resort town reported hearing a loud boom and feeling earthquake-like tremors
shortly before noon.
"We have had reports that people felt tremors," said an Ocean City police spokeswoman, who estimated that the department had fielded more than a dozen calls as of noon.