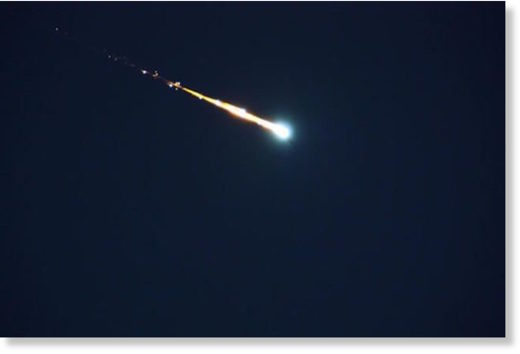 A meteor streaked across the skies of the Washington region on Monday night, witnessed by a relative few, but described as impressive by those fortunate enough to see it.
As of late Tuesday, the American Meteor Society said it had received 15 reports "about a fireball" seen over Maryland, Virginia and Pennsylvania about 11:30 p.m. on Monday.
Slashing silently across the skies, most frequently seen at night, meteors seem to disrupt the normal overhead order of things, and in their speed and brilliance, often arouse sensations of awe and a sense of the mysterious.
A report from Oakland, Md, called it "bright white like staring at the sun." It then seemed to turn orange, the report said.
"This was so cool," said a report from Purcellville, Va.
Another report to the meteor society came from Dale City, Va.
It came from someone who had watched many videos of meteors and meteor showers.
"There are not many I've seen this bright and large," said the brief report.
Not all those who spot the fireball report it to the meteor society.
One witness, who reported his observations on Twitter, asked: . Anybody else see that meteorite just now fall & burn out (looking west from #DC)?!"
According to the witness's Tweet, " From Logan Cir it looked like it was right over Georgetown! It was nuts. "