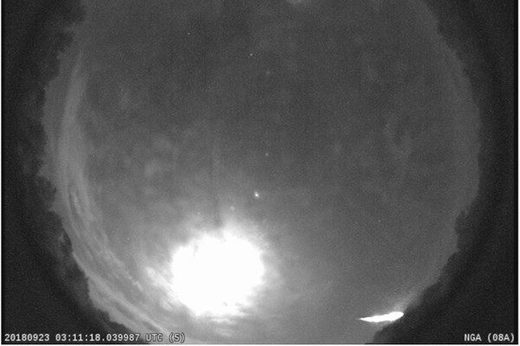 The fireball seen in five Southern states Saturday night was only about 5 inches wide and weighed 4 pounds, NASA says. The meteor's speed through the atmosphere of 56,000 miles per hour didn't leave enough left to create any meteorites.
NASA cameras in northeast Georgia and North Carolina caught the meteor at 10:11 p.m. CDT, but their distance and positions made it impossible to compute its path. However, NASA meteoroid expert Dr. Bill Cooke said an analysis of eyewitness accounts puts the meteor's origin about 56 miles above Oak Bowery, Ala., just north of Auburn. It traveled 38 miles through the atmosphere before burning up 26 miles above the town of Cragford.
Eyewitnesses in Alabama, Florida, Georgia, Mississippi and Tennessee reported seeing the fireball.