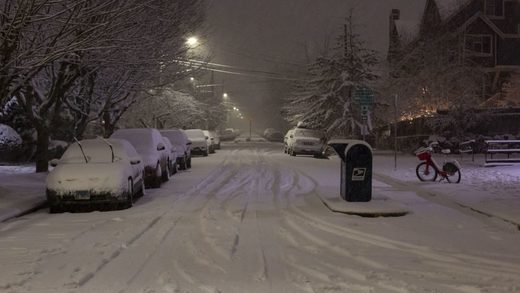 Some areas around
Seattle received more than 10 inches of snow
Saturday, the most in 70 years, the National Weather Service said, and more is on the way two more storm systems close in on the area. The National Weather Service said the first storm system is expected to arrive in the area Sunday night with light accumulation, and the second system will push through Monday and continue into Tuesday.
Meanwhile, cold temperatures are expected in the region overnight Saturday, with temperatures dropping to 15-20 degrees and the wind chill in the single digits.
The National Weather Service said
some areas received up to 10.6 inches of snow, already making it the snowiest February since 1949, and the second snowiest February on record.
Nearly 8 inches of snow fell at Seattle-Tacoma Airport, where hundreds of flights were cancelled, CBS News' Carter Evans reports. The storm obscured the famous Space Needle and left a blanket of snow over some very iconic locations, like Pike Place Market. Heavy snow did do some damage in Yosemite National Park, where they got up to two feet in some areas.