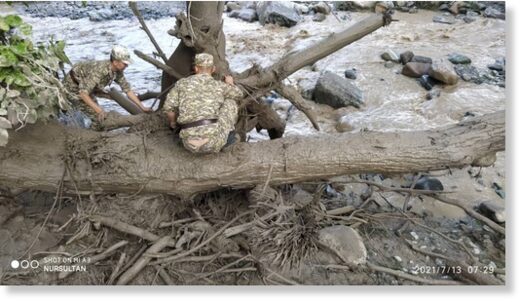 Floods and mudslides caused by heavy rains swept away houses in two villages in the Aksy district in Jalal-Abad Region of western Kyrgyzstan on 12 July, 2021, close to the border with Uzbekistan. At least 15 people across the two countries have died as a result.
Kyrgyzstan's Emergency Ministry carried out search and rescue operations after reports of 8 people missing following the floods and mudslides in Aksy district. The bodies of 7 people have since been recovered, six of them members of the same family. One person is still missing. Roads and 4 bridges were also destroyed.
A state of emergency has been declared in Jany-Jol and Ak-Jol rural districts of Aksy region of Jalal-Abad oblast. President Sadyr Japarov expressed his condolences to the families of the victims.