Comment: Most people think that governments that order the brutal torture of generally innocent people are dictatorial regimes where genuine freedom is limited or non-existent, including genuine freedom of speech.

Most people are generally right in thinking so.

Their problem is in accurately identifying the governments that engage in such inhuman practices. Then again, given that such regimes have total control over information and freedom of speech, it's not surprising. 'God bless America' indeed.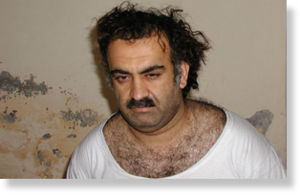 The CIA brought top al-Qaeda suspects close "to the point of death" by drowning them in water-filled baths during interrogation sessions in the years that followed the September 11 attacks, a security source has told The
Telegraph
.
The description of the torture meted out to at least two leading al-Qaeda suspects, including the alleged 9/11 mastermind Khalid Sheikh Mohammed, far exceeds the conventional understanding of waterboarding, or "simulated drowning" so far admitted by the CIA.
"They weren't just pouring water over their heads or over a cloth," said the source who has first-hand knowledge of the period.
"They were holding them under water until the point of death, with a doctor present to make sure they did not go too far. This was real torture."
The account of extreme CIA interrogation comes as the US Senate prepares to publish a declassified version of its so-called Torture Report - a 3,600-page report document based on a review of several million classified CIA documents.
Publication of the report is currently being held up by a dispute over how much of the 480-page public summary should remain classified, but it is expected to be published within weeks.