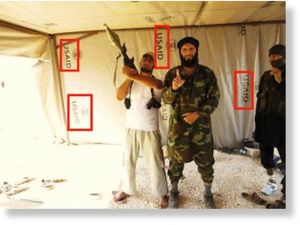 The leaders of Islamic terrorists could be under the direct influence of NATO and Western powers using their movements to threaten Russia's territorial integrity, says a former general of Russian military intelligence service.
"
There are some grounds to suspect that American and British special services could support the Islamic extremists in order to target the territorial integrity of the Russian Federation,
" Lieutenant-General Nikolai Pushkaryov, formerly of the Central Intelligence Directorate of the Russian General Staff said in an interview with the RIA-Novosti news agency. "
The top of these movements can be under the influence of NATO agents
," he added.
The general also commented on the statement by the head of the Chechen Republic, Ramzan Kadyrov, who promised to destroy any Islamic terrorist who voiced threats against Russia. Kadyrov also told reporters that Chechen special services intended to hunt down and kill Abu Bakr al-Baghdadi - the head of the Islamic State group (also known as ISIL and ISIS), adding that
this man had been recruited to work for the US by General David Petraeus
, the former director of the CIA, and former commander of coalition forces in Iraq and Afghanistan. Back then, Kadyrov claimed the Islamic State "was acting on orders from the West and Europe."