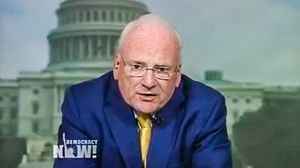 President George W. Bush's former top counterterrorism official said this week that he is convinced that Bush, former Vice President Dick Cheney and former Defense Secretary Donald Rumsfeld all committed war crimes during the Iraq war.
In an
interview
that will air in full next week, Democracy Now's Amy Goodman asked former National Coordinator for Security, Infrastructure Protection, and Counter-terrorism Richard Clarke if "President Bush should be brought up on war crimes [charges], and Vice President Cheney and Donald Rumsfeld, for the attack on Iraq."
"I think things that they authorized probably fall within the area of war crimes," Clarke agreed. "Whether that would be productive or not, I think, is a discussion we could all have."