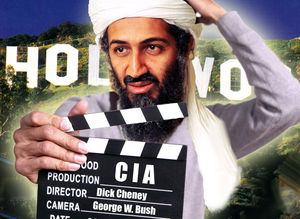 American commandos likely to descend on Pakistan's tribal areas may not be too keen on acquiring the supreme fashion accessory of 2001 in the region, the Osama bin Laden T-shirt, boasting such inscriptions as "World Hero" and "The Great
Mujahid
of Jihad". They're selling briskly in Peshawar's Saddar bazaar for less than US$2 a pop.
The US special forces guys could also take back home a few examples of Osama rappin', available on cassette tapes. They could collect Osama mug shots with lovely psychedelic overtones, and even an Osama video - where the No 1 on the FBI's most wanted list on charges of international terrorism preaches from a mosque and talks to his faithful jihadis in the field. Osama says, "You gotta leave all these places run by 'allies of Jews and Christians' and come to me to do the jihad." He calls for "blood, blood and destruction, destruction" - referring to an array of Muslim victims from Palestine to Chechnya, from Lebanon to Kashmir.
Osama bin Laden - also the No 1 target of the CIA's counter-terrorism center - is now a superstar playing the bad guy in some sort of planetary Hollywood fiction. Yet inside Afghanistan today, where the Saudi Arabian lives in exile,
Osama is a minor character. He is ill and always in hiding - usually "somewhere near Kabul". Once in a while he travels incognito to Peshawar. His organization, the Al Qa'Ida, is split, and in tatters
. The Taliban owe him a lot for his past deeds towards the movement and in putting them in power in Afghanistan - contributing with a stack of his own personal fortune of millions of dollars.
But no longer an asset, he has become a liability
.