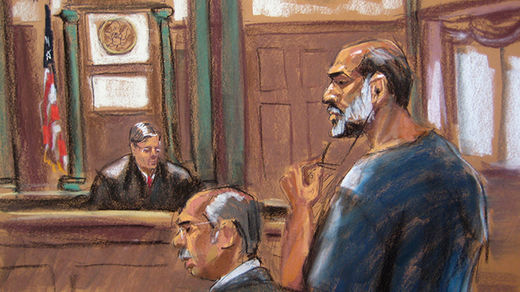 A Kuwaiti man considered to be a senior adviser to former Al-Qaeda leader Osama bin Laden was found guilty by jury Wednesday morning in New York City of conspiring to kill Americans.
The man, 48-year-old cleric Sulaiman Abu Ghaith, now faces a maximum sentence of life in prison.
Federal prosecutors for the United States government argued at trial that Ghaith worked within the top ranks of the terror group and assumed the role of a spokesman of sorts, appearing in propaganda videotapes released in the wake of the September 11, 2001 attacks orchestrated by Al-Qaeda.
Ghaith admitted on trial to being summoned personally by bin Laden in June of 2011, and later took the Al-Qaeda leader's daughter as an additional wife several years after 9/11. In the interim he appeared in videos released by the organization, including one where he warned Americans that "the storm of airplanes will not abate."
''The defendant committed himself to Al-Qaeda's conspiracy to kill Americans, and he worked to drive other people to that conspiracy," Assistant US Attorney John Cronan said during closing arguments on Monday, the
Boston Globe
reported.