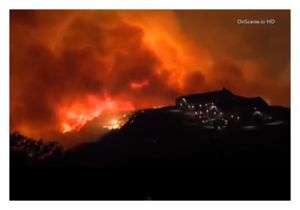 A massive fire in Ventura County, Calif., that started early Thursday (May 2) has gobbled up thousands of acres of brush and is headed toward the ocean near Malibu.
The blaze erupted at about 6:30 a.m. local time (9:30 a.m. EDT) Thursday off the Southbound 101 freeway, threatening hundreds of homes in Newbury Park and Camarillo, the
LA Times
reported. The flames had consumed 10,000 acres of brush and was 10 percent contained as of early Friday morning,
NBC News
reported, and had reached within "seven or eight miles" of the city of Malibu.
The so-called Springs fire caused the shutdown of a 9-mile stretch of Pacific Coast Highway and the evacuation of hundreds of Ventura County residents as it crept toward the coast.
Very low humidity and balmy spring temperatures, combined with the dry brush and the blustering
Santa Ana winds
, created the perfect conditions for the wildfire, which is unusual for this time of year.