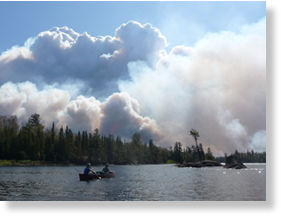 Residents and campers near the Boundary Waters fire are being asked to evacuate as a wildfire burning in northeastern Minnesota continues to grow.
Fueled by dry trees and winds gusting to near 40 miles per hour, the Pagami Creek Fire has at least doubled in size, and some estimates say it may have tripled since the weekend.
It is now spreading south outside the Boundary Waters Canoe Area.
"We're expecting higher winds again tomorrow coming out of the northwest," said Becca Manlove, public information officer with the Pagami Creek Fire Information. "We would rather people have a little time to think and gather things and move rather than asking them on very short notice.