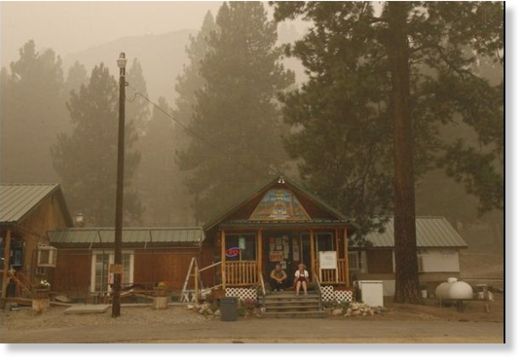 San Francisco - Thousands of people have been told to leave their homes as a wildfire burning Sunday in thick forest threatened rural communities in far Northern California.
The fire that sparked around 11:30 a.m. Saturday has destroyed four homes and consumed nearly 11 square miles near the towns of Manton, Shingleton, and Viola, fire spokesman Daniel Berlant said. About 3,500 homes spread out across a rural area along the border of Tehama and Shasta counties are threatened, he said.
"A good majority are immediately threatened and a good number are in the path of the fire," Berlant said Sunday. "We will be battling it hard today to protect as many of those homes as possible."
The cause of the fire has not been determined, but officials said it started after a series of lightning strikes in the area.
John Cluff, 42, told the Redding Searchlight that he was forced to flee his home before the evacuations were issued. He went back for his dog about 3:30 p.m.
"The fire basically chased me out of the property," he said. "All I could see was black smoke and flames."
The Shasta County Sheriff's Department has declared a State of Emergency for the county, with evacuations expected to continue through Sunday. The Red Cross has set up an evacuation center in Redding, about 35 miles to the west of the fire.
The fire, burning in a rugged area of thick forests about 170 miles north of Sacramento, is one of handful of new fires burning in Northern California.