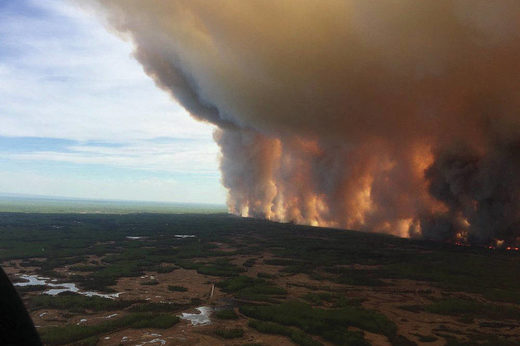 The calendar hasn't turned to summer yet, but skies in Canada and across the U.S. already look like August. Smoke from massive Canadian wildfires has made the sun disappear in Edmonton and turned Friday's sunrise blood red as far east as Vermont.
More than 900,000 acres of Alberta has gone up in flames, the latest symptom of our overheating planet. Wildfire risk continues to be high in the province as well as neighboring British Columbia where a heat wave has temperatures climbing into the 90s for parts of the province through the weekend.
There are currently 10 fires in Alberta raging out of control according to the province's fire agency. The largest of which is the Chuckegg Creek Fire burning in the northwest part of the province. The blaze, combined with others in the High Level fire district, has consumed more than 610,000 acres as of Thursday according to the agency, and along with the other wildfires in the province, forced
10,000 to flee from their homes
.
The province remains on a Level 5 alert, the highest alert level the Canadian Interagency Forest Fire Centre (CIFFC) issues, due to a combination of factors including dangerous weather, high fuel loads, and inadequate resources to respond to any new fires. The country as a whole remains on a Level 3 alert, and with a hot, dry weekend ahead for British Columbia, Alberta, and parts of the Yukon Territory, the threat of more conflagrations remains acute.