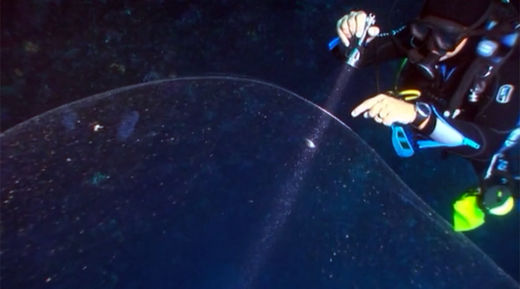 An enigmatic and gigantic translucent sphere floating near the Turkey's coast recently found by a group of divers, baffling the experts around the world.
A car-sized almost invisible underwater object was discovered by a pair of divers as they were swimming near the coast of a small town in Turkey on July 9. The sphere was drifting 22 meters below the sea level and was about 4 meters wide.
The blob looked gelatinous and felt "very soft," according to one of the divers, named Lutfu Tanriover, who also took footage of the strange phenomenon.
The Istanbul-based diver investigated it with an underwater torch. Although the mass was looking totally transparent, upon a closer view the group spotted small white dots filling the underwater "cloud."
The divers described their finding as a mixture of a miracle and a nightmare and admitted they felt "both excitement and fear" as they neared the otherworldly object, as they told the
Deep Sea News
.
Lutfu Tanriover recorded the entire encounter with the mysterious sphere on camera and posted it in the internet in hope to find an explanation for the "thing" that appeared to be a total mystery.