Britain should prepare for the worst winter in half-a-century with advanced weather models now predicting months of heavy snowfall, forecasters warned tonight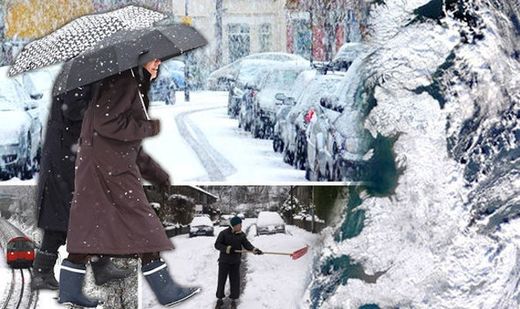 Forecasters have issued early warnings to prepare for sub-zero temperatures and blizzard conditions across the entire UK. A perfect storm of ingredients including the most powerful El Nino on record and changes in air pressure over the Arctic threaten horrendous conditions across Britain. A negative phase of the North Atlantic Oscillation will allow freezing air to pour in from the North Pole. If the cycle continues it will open the gates to the fury of a fully-blown Arctic blast rivalling the record winters of 1962/63 and 1946/47.
Atlantic sea temperatures around the UK have plunged this year meaning any cold weather fronts will be bolstered by the icy waters. Current predictions are also for a negative North Atlantic Oscillation to weaken atmospheric pressure gradient between Iceland and Bermuda. This acts to stifle prevailing westerly winds which in turn forces milder weather southwards over Europe while allowing the cold in from the north.
And a third factor - the Arctic Oscillation - is also threatening to swing into a negative phase bolstering the flow of Arctic air into the UK in a triple-whammy of winter misery. It means heavy and persistent snowfall, Arctic gales and deep snowdrifts threaten to throw the country into chaos from December until MARCH although the earliest snowfall could arrive by early November.
Forecasters are now warning people to prepare for the worst this year with experts fearing thousands could die from the cold. After two mild years they fear the emergency services could be lulled into a false sense of security.
Official figures show that even during the winter of 2013/14 which failed to bring any major whiteout, 18,200 excess deaths were recorded. In 2012/13 the Office of National Statistics recorded 31,000 excess deaths with elderly, unwell and vulnerable people hardest hit.
James Madden, forecaster for Exacta Weather, said the first flakes of snow could arrive in just three weeks. He said: "It is likely to turn significantly colder from mid October onwards. "This is likely to bring the first significant snow of winter above higher ground in parts of Scotland and potentially to some well-elevated parts of Northern Ireland. "Some potentially wintry showers could develop in some other parts of the country during the evening or overnight when temperatures will dip to some quite chilly values with the strong influence of some cool northerly winds.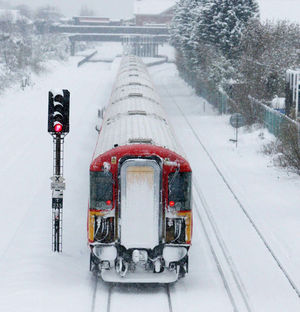 "The cold winds will allow it to be more settled, but during some periods of showers or unsettled weather we could see some wintry showers developing in places, particularly in some rural parts of the country.
"Some much lower levels of the country could see some very early wintry showers or their first flakes of snow during the latter part of October and into November."
Winter this year will also come heavily under the influence of a pattern of Pacific Ocean warming - El Nino - which set in before the summer.
Scientists say the event is shaping unto be one of the strongest ever recorded and threatens devastating knock-on global effects
. In the UK the phenomenon is linked to colder than average winters with the strongest impact usually towards the end of the season
Dr Nick Klingaman, climate scientist from the Department of Meteorology at the University of Reading, said there is a 50/50 chance of this El Nino turning out to be the strongest ever recorded. He said: "El Nino is continuing to strengthen and there is now a fifty fifty chance it will end up being the strongest ever recorded. "The impact of a small increase in ocean temperatures is really quite dramatic, a rise of half a degree is classified as an El Nino event, so far we have seen a rise of two and a half degrees.
"There are some signals that an El Nino event can cause an increased chance of colder conditions in the UK, usually at the end of winter. "However historically the impacts can be variable, so at the moment there is no consensus on exactly how it will play out."
The Met Office is predicting above-average winter precipitation this year meaning heavy snow is on the way if the cold does set in as feared. Its three-month outlook states: "For October-November-December precipitation is more likely to above-average than below-average.
"The probability that UK precipitation for October-November-December will fall into the driest of our five categories is 15 per cent and the probability that it will fall into the wettest of our five categories is 35 per cent." Mr Madden said temperatures will continue to plummet below average through November bringing widespread snow. He said: "Wintry conditions will begin to take more of a stronghold and become the more prominent feature throughout much of the month, and we can expect a much colder than average November with a below-average Central England Temperature this year.
"We can also expect ample snow amounts for the ski resorts in Scotland throughout November, and the snow risk will also increase to many other parts of the country, even at lower levels from parts of the north to the south of the country."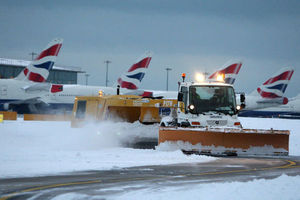 He went on: "This is also likely to precede a much colder than average winter throughout the December to March period with a multitude of snow events after snow events in response to low pressure systems clashing with the almost stagnated and cooler air that will be in place across the British Isles.
"This will all be due to the changes we have seen in solar output in recent years, and how this has altered the heating of the Gulf Stream and left us with an exceptionally cold North Atlantic.
"This then intrinsically alters oscillation and jet-stream patterns to leave us in these extremely cold and snowy conditions."
Despite repeated forecasts for severe weather and persistent snow over the past two winters, things turned out relatively mild, if very stormy.
Experts say all the ingredients were present, including a steady decrease in solar activity, however they failed to produce the expected whiteout because of the absence of a crucial "lag effect" between the plunge in solar energy output and the swing to a negative cycle of the North Atlantic (NA) and Arctic Oscillations (NAO). As a consequence, instead of being hit by colder, snowier conditions, the last two winters turned out to be milder and much, much wetter.
Had temperatures plummeted due to decreasing solar output at the same time the NA and NAO swung into action both scenarios would have been dramatically different. Mr Madden added: "An important lag effect which should have placed us in a rather cold and snowy winter last time is very unlikely to miss us this time around.
"It is important that people start preparing for the worst instead of getting caught by surprise later, in particular with the elderly more vulnerable to these types of conditions. "The worst case scenario could certainly place us in a similar winter to that of 1962/63."