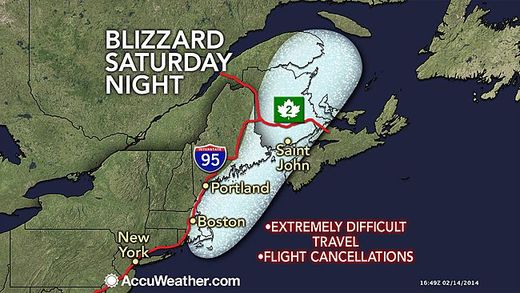 Into the first part of the weekend, light to moderate snow will push from the Ohio Valley to the mid-Atlantic states, but a blizzard is forecast to develop in eastern New England.
The storm has the potential to bring a new round of ground and airline disruptions to parts of the South and East that were hit with the winter storm at midweek and also to some places that escaped the storm in the Midwest.
The storm is forecast to remain rather weak along most of its journey. However, it could bring just enough snow to treat, shovel and plow from parts of Illinois, Indiana and Ohio to much of Kentucky and Tennessee into Friday afternoon.
Motorists are advised to exercise caution this evening along Interstates 64, 65, 71 and 75 in Kentucky as temperatures falling below freezing can make for icy travel. Similar conditions in southeastern Pennsylvania early this morning
contributed to a multiple vehicle accident
on the Turnpike, north of Philadelphia.
The storm brought between 1 and 4 inches over a large part of Iowa and northern Missouri early Friday and was heading across central Illinois toward Indiana during the midday Friday. St. Louis received a wintry mix.
A swath of snow will affect portions of North Carolina, Virginia, West Virginia, Pennsylvania, Maryland, Delaware, New Jersey and New York during part of Friday night. A couple of inches could fall on parts of these states with locally higher amounts. The snow could conceal patches of ice beneath.