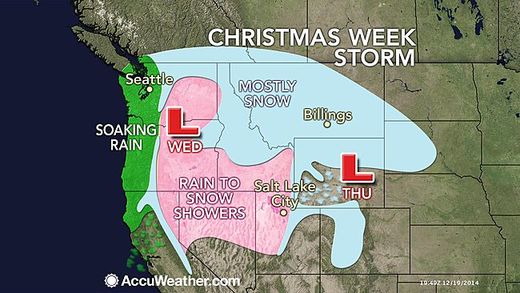 As the train of storms from the Pacific Ocean continues, rounds of rain and mountain snow will fall on areas from the Northwest to the Intermountain West and Rockies through Christmas Day.
A strong storm will affect the Northwest this weekend with gusty winds, heavy low-elevation rain and high-elevation snow.
A second storm will roll ashore on Tuesday with falling snow levels in the Northwest and heavy snow farther inland in the West.
Northwest Storm to Unleash Heavy Rain, Strong Winds This Weekend
According to AccuWeather Meteorologist Brian Lada, "The worst conditions this weekend will hit from the Cascades to the Pacific coast."
A general 4-8 inches (100 to 200 mm) of rain will fall from the upper Oregon coast to Washington's Olympic Peninsula and the southwestern part of Vancouver Island, British Columbia.
A general 2-4 inches of rain are forecast along Interstate 5, from Eugene and Portland, Oregon, to Seattle and Tacoma, Washington. Similar rainfall with locally higher amounts are possible along the west-facing slopes of the Cascades in Oregon and Washington.
Enough rain will fall to raise the risk of mudslides and flash and urban flooding. Small stream flooding is possible due to melting snow and heavy rain on the intermediate elevations of the Cascades.
Gusty winds will accompany the heavy rain, raising the potential for flight delays and localized power outages.