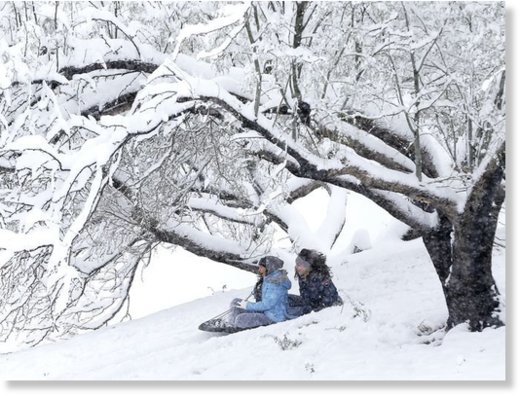 Despite the freezing cold, dangerous road conditions, power outages and several business and church closings, El Pasoans made the best of the rare winter storm that brought
more than five inches of snow
to the area.
"It's been great and it's been years since we have seen it snow like this in El Paso," said Sebastian Lopez, who was building a 12-foot snowman with family and friends at Eastwood Park Sunday. "While it is great, driving home last night to the East Side from work on the West Side was a bit harsh. The visibility was zero and people here just aren't used to driving in those conditions, but I made it home and it doesn't seem like the snow caused too many problems for people, so all in all it's been great."
According to the National Weather Service, the El Paso International Airport reported about 5.3 inches of snow, while areas in El Paso and Horizon City recorded more than 7 inches
.
Las Cruces received between five to 12 inches of snow, while Organ, N.M., outside of Las Cruces, reported getting 13 inches.
The snow began falling in the El Paso area Saturday afternoon and continued into the early morning hours of Sunday.
El Paso, New Mexico and Texas transportation officials were forced to close several roads due to the heavy snow, low visibility and icy road conditions.
City of El Paso officials closed Scenic Drive Saturday night until further notice.
The Texas Department of Transportation shut down Trans Mountain Road Saturday night and maintenance crews began cleanup efforts to reopen the road at about 4 p.m. Sunday but the snow was too thick, officials said. The road was to remain closed overnight with crews returning early Monday morning. TxDOT also completely closed U.S. Highway 67 Saturday between Marfa and Presidio for more than 10 hours while they waited for storm conditions to improve, officials said.
New Mexico Department of Transportation issued warnings about road conditions on Interstate 10 between El Paso and Las Cruces, while they shut down several highways for hours including US 62/180 from Carlsbad to the State line, officials said.
No major accidents with serious injuries were reported during the storm, but an 18-wheeler that flipped over on its side on Interstate 10 near Vinton caused delays for several hours, TxDOT officials said.
Hundreds of El Pasoans also faced power outages due to the storm, including on Saturday in East and Central El Paso
.
No major delays were reported at the El Paso International Airport, although according to its website, some flights to Dallas were delayed or cancelled due to weather conditions in that area.
While the borderland was blanketed with snow, other areas of Texas saw much more serious and powerful storms. In the Dallas area, 11 people, including eight in Garland, Texas, died as almost a dozen tornados hit the area Saturday, the Associated Press reported.