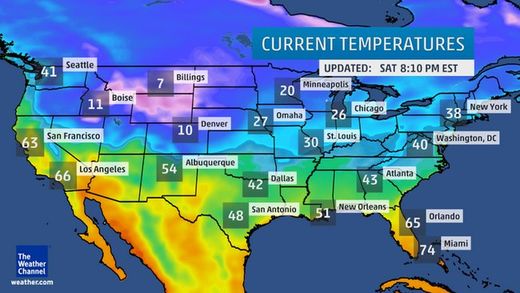 Arctic air is now firmly entrenched over much of the nation's mid-section, Northwest and, finally Northeast, sending temperatures crashing to values you might expect in mid-winter in some areas.
Here are some cold notables so far:
- Burlington, Colorado, on the eastern Plains near the Kansas border, dipped to -10 Thursday, setting a new record low for the month of November.

- Casper, Wyoming, dipped to -27 at 11:59 p.m. Wednesday night, shattering their all-time November record low of -21 on Nov. 23, 1985 (records date to 1939). The temperature stayed at -27 at midnight Thursday, making it the new record low for Nov. 13 as well. Previously, the soonest Casper plunged to -27 was on Dec. 5, 1972. Casper's high of 6 on Nov. 11 was the record earliest single-digit or colder high temperature there. (On Nov. 15, 1955, the high was only -3 degrees). Wednesday, Casper only managed a high of 3 degrees!

- Denver's high of 6 on Nov. 12 was the coldest daily high so early in the season. Only three other November days had daily high temperatures colder in Denver, dating to 1872. Early Thursday morning, Denver chalked up a bone-chilling -14 degrees, easily the coldest temperature so early in the season. (Nov. 17, 1880 was the previous earliest such cold reading in Denver.)

- Livingston, Montana, dipped to -21 Wednesday, their coldest so early in the season. That said, they once dipped to -31 degrees just one day later in the calendar, on November 13, 1959.

- Riverton, Wyoming had a daytime high of 0 degrees Thursday.

- In the Southern Plains, Amarillo (21), Lubbock (27), Childress (29) and Goodland (14) all set their coldest daily high temperatures on record for so early in the season on Wednesday.
Next, we'll hit some cold highlights in both forecast highs and lows, then ask how long this will last.