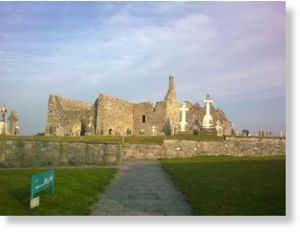 Major volcanic eruptions around the world have coincided with periods of unusually cold weather in Ireland for a span of more than 1,200 years, new research shows. The findings suggest eruptions could have complex effects on regional climates, possibly leading to cooling in areas of the Northern Hemisphere even in wintertime, which hadn't been clearly shown before.
The study, published today in the journal Environmental Research Letters, reconstructed the history of cold events in Ireland from the fifth through 17th centuries A.D., based on more than 40,000 writings of scribes and monks from that time. The history of volcanic eruptions was also recreated based on levels of sulfate found in Greenland ice cores - an accepted method to date past eruptions, said study author and Harvard researcher Francis Ludlow. By comparing the two sources, Ludlow and his colleagues found cold events were more likely to occur in the years after these eruptions: More than half of the 69 coldest periods happened in the years following huge volcanic eruptions, Ludlow said.
"This suggests that a very major volcanic eruption can have a long-lasting impact on climate, with extreme cold occurring for possibly several years after an event," Ludlow told LiveScience.