Snow will bring central Germany an early taste of winter into Wednesday morning.
After a cool Tuesday unfolded, the stage was set for rain to change to snow at night as a storm system dropped southward and pulled down even colder air into Germany.
The snow will fall in between Berlin and Munich, focusing on the corridor from Trier to Frankfurt to Kassel to the mountains along border of the Czech Republic before tapering off Wednesday morning, mixing back with rain in some cases.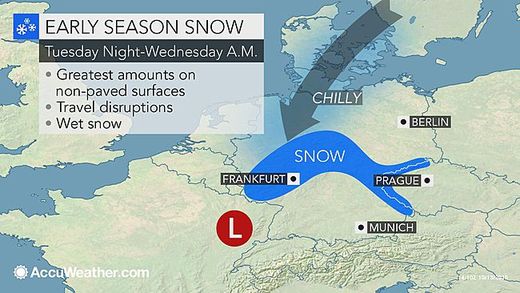 Fritzlar should also see snow, marking the earliest such occurrence in October since Oct. 5, 1994, according to AccuWeather Meteorologist Tyler Roys.
As is typical in early (and late) season snowfall events, amounts and impacts will be dependent on both elevation and snowfall intensity. Snow totals at any given location will be greatest on non-paved surfaces than paved surfaces, which retain more of the sun's warmth and are slower to cool.
The snow is expected to accumulate 5 to 10 cm (2 to 4 inches) in the colder highest elevations. While some melting will initially occur on the roads, that amount of snow will eventually lead to slippery and slushy travel.
"This will be a wet snow and leaves are still on the trees," stated Roys. As a result, the weight of such snow totals could also cause some tree branches to snap and lead to sporadic power outages.
Roys anticipates that amounts will range from a coating to 5 cm (2 inches) outside of the highest elevations. Totals will be on the lower end of that range in the communities in the lowest elevations, such as Frankfurt.
The greatest concerns for slippery travel in the lower elevations will arise where the snow can fall heavily enough to overcome the melting on the warmer paved surfaces. That is especially true at night when the warming effect of the mid-October sun is absent. Otherwise, roads will be mainly wet if the snow falls lightly.
Europe: Wet Weather in the East
In either case, the snow can still lead to slower travel for both motorists and airline passengers by reducing visibility.
Children and those young at heart hoping to build a snowman or play in the snow should not delay in doing so after the snow comes to an end. The combination of temperatures climbing above freezing and the sun's energy going to work will quickly start the melting process Wednesday afternoon.
The impending snow may be a preview of
what is expected this winter
with the AccuWeather Long Range Forecasting Team anticipating an elevated threat for snowfall events across Germany later this winter
.