Extreme Temperatures
telegraphtv
YouTube
Thu, 20 Dec 2012 00:00 UTC
Amateur video shows boiling water freezes instantaneously in Siberia as temperatures dip below minus 40 degrees Celsius.


---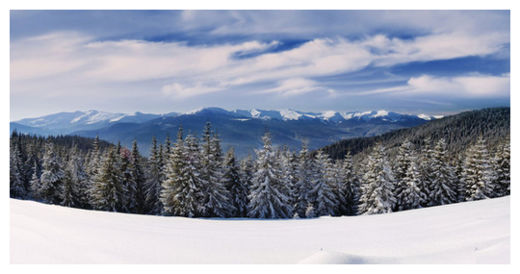 If any nation on Earth is accustomed to dealing with a harsh winter, it would be Russia. But from the farthest reaches of Siberia to downtown Moscow, the
Russian people are being pummeled by a winter so brutal it's shattering cold-weather records across the continent - and it's only December.
As temperatures plunge as low as - minus 58 degrees Fahrenheit (minus 50 degrees Celsius) in some areas, the
Pravda
news site reports that 45 people have died of causes related to the subfreezing weather; 21 people froze to death in just one day. Hundreds more have been hospitalized with frostbite and other conditions.
Subfreezing weather combined with heavy snowfall in some regions have crippled the nation's infrastructure, closing roads, scrambling airline flights and bursting pipes that carry water and heat into homes, schools and businesses, according to
RT.com
.
---
Like ice bombs falling from the sky.
That's how motorists described their nightmare on the Port Mann Bridge early Wednesday afternoon when giant icicles began to drop from the overhead cables and damage cars.
RCMP closed the
new toll bridge
in both directions for several hours until about 6 p.m. after many vehicles were hit by the falling ice and two occupants were injured, sending one to hospital.
Several large clumps of ice crashed through car windshields and ICBC has received 107 vehicle damage claims as of Thursday morning.
"There was no way to get around it, there was no way to move - it looked like a meteor shower of snow," said Jared Angell of Abbotsford.
His work truck sports a spider web of cracks in the front windshield and multiple dents to the roof.
"I probably got hit at least 10 times," Angell said. "I wasn't nervous until the windshield shattered, then I started to get nervous. You're hoping another one doesn't hit the same spot."
He was one of at least four drivers with Port Mann ice damage who ended up in the same autobody shop in Abbotsford.
Karl Nylund said he was "freaked out" when ice punched right through the back window of his Subaru as he was inching across the bridge in very slow traffic.
---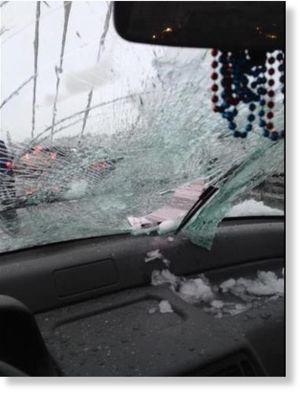 Canada, British Columbia - The head of the Crown corporation that built the Port Mann Bridge says the company is reviewing yesterday's
closure of the multi-billion-dollar span
after snow and ice fell from the bridge's support cables, injuring two people and damaging several vehicles.
Mike Proudfoot, the CEO of the Transportation Investment Corporation, admits the coating on the cables that was supposed to push snow away from the deck didn't work.
But, he says, Wednesday was an unusual day.
"This is an extreme weather situation,"
he said.
"It is very rare, especially in the Lower Mainland, but it does occur and it has had similar effects on other cable stay bridges in other jurisdictions ... Snow can accumulate on any structure over roadways and no bridge is immune to it but what we saw was a very unusual combination of winter conditions."
Proudfoot says engineers were sent to the bridge and the contractor has been asked to come up with plans to avoid such problems in the future.
The corporation says it will forgive the toll and pick up the insurance deductible for vehicles damaged on the bridge.
---
Winter Storm Draco will continue to dump heavy snow and bring strong winds to the Upper Midwest through Thursday night. Blizzard warnings and winter storm warnings remain in effect for several states in the region. Significant travel disruption is likely. Draco initially brought heavy snow and wind to the West earlier this week before spreading across the Plains and Upper Midwest Wednesday into Thursday. As we close out the week, Draco will sweep through the East Coast with rain and wind while turning on the lake-effect snow machine in the Great Lakes. The warm side of Draco has resulted in
severe thunderstorms and tornado reports in the South.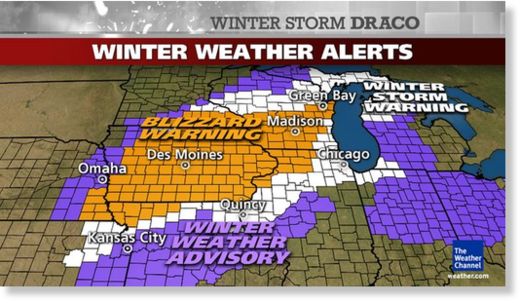 As Draco's low intensifies and swings northeastward across the Great Lakes through Thursday night, moderate to locally heavy snow or rain changing to snow is expected in parts of the upper-Mississippi Valley and Great Lakes, targeting Iowa, Wisconsin, northern Illinois, northern Missouri and northern Michigan.
Snowfall rates of 1 to 2 inches per hour are likely at times in the heaviest snow bands and you may hear some rumbles of thunder during the snowstorm as well. Storm total snowfall amounts of 6 to 12 inches (locally more than a foot) are expected in the heaviest snow swath from parts of Iowa to Wisconsin and northern Michigan.
---
Yakov Andreev
RT
Wed, 19 Dec 2012 15:58 UTC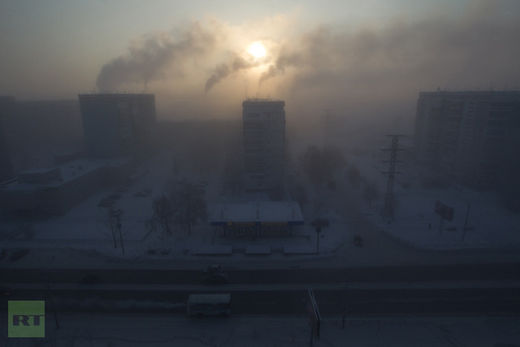 Russia is enduring its harshest winter in over 70 years, with temperatures plunging as low as -50 degrees Celsius. Dozens of people have already died, and almost 150 have been hospitalized.
­The country has not witnessed such a long cold spell since 1938, meteorologists said, with temperatures 10 to 15 degrees lower than the seasonal norm all over Russia.
Across the country, 45 people have died due to the cold, and 266 have been taken to hospitals. In total, 542 people were injured due to the freezing temperatures, RIA Novosti reported.
---
A. Pawlowski
NBC News
Wed, 19 Dec 2012 09:45 UTC

A major winter storm moving across the nation Wednesday is threatening to disrupt travel plans for millions of Americans heading home for Christmas. The weather system even has package delivery companies nervously checking out the forecast, with the timely delivery of precious gifts on the line.

"We're closely monitoring the storm," FedEx spokesman Scott Fiedler told NBC News. "We have a team of 15 meteorologists who track the weather around the world every day."

FedEx is seeing only minor delays so far but has contingency plans in place to help mitigate any effects of the weather, Fiedler said.

UPS, which projects that Thursday will be its busiest day of the holiday season, also has its staff meteorologists tracking the storm.
---
Thomas Whittle
NZWeek
Mon, 17 Dec 2012 15:35 UTC
Heavy snow caused a traffic jam that extended to about 20 kilometers on a highway linking the Ukrainian capital and the Hungarian border as of late Sunday, authorities said.

The jam took place after a highway section between Buh and Brody districts was blanketed by snow as deep as three meters, said the Emergencies Ministry.

As of Monday morning, traffic were resumed for small vehicles as emergencies workers were struggling to clear the snow.

A woman stuck in the traffic jam had to give birth to her baby in her car before the emergency crews arrived. The mother and the baby were later sent to a local hospital.

Witnesses told Xinhua that they saw hundreds of cars were trapped, with snow piled up to the car roofs. The trapped were seeking help from nearby village for food and heating.

Souce:Xinhua
---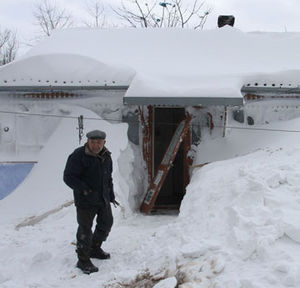 Cold has killed 37 people in Ukraine so far this month as temperatures reached minus - 23 degrees in parts of the country, the government said.
The health ministry said 190 people had sought medical help and 162 had been hospitalised.
Night temperatures are expected to drop to -28 degrees in northern, central and eastern Ukraine this week, weather forecasters say.
The cold snap followed heavy snowfall which left some areas covered with as much as 53cm of snow.
The emergencies ministry said this week it was setting up hundreds of heated tents across the country where people could get hot drinks and receive first aid.
Last February, as Ukraine went through its coldest winter in six years, more than 130 people died of cold in the country of 45 million.
---
Up to 12 inches of further snowfall is forecast for parts of northern New England - and a second wintry storm is crossing the U.S. in its wake, according to Weather Channel meteorologist Kevin Roth. The current snowfall in northern New York state and New England will continue through Tuesday night and into Wednesday, with as much as 15 inches possible in some areas. Meanwhile, another cross-country storm - Winter Storm Draco - was expected to bring heavy snow to the Northwest on Monday. The higher elevations of the Cascades will see as much as 2 to 3 feet of snow above 7000 ft, Weather.com reported, with significant accumulations below 3000 ft.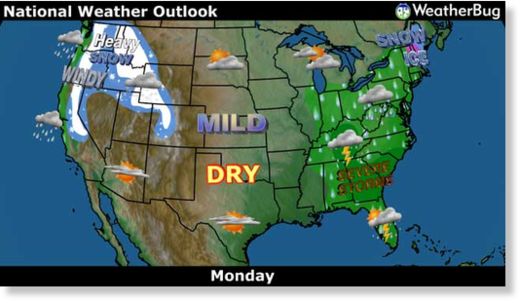 The National Weather Service said the probability of "large amounts of snow remains high across the majority of windward facing slopes of the Pacific Northwest and portions of the Northern Rockies." King5.com reported that the storm is expected to bring high winds to Western Washington and whiteout conditions to the west slopes of the Cascades and passes. The system is expected to move to the Southwest and Rockies Tuesday and Wednesday before bringing snow to the eastern half of the country later Wednesday through Friday. Roth added there would likely be a lake-effect snow threat behind the storm on Thursday and Friday. -
NBC
---