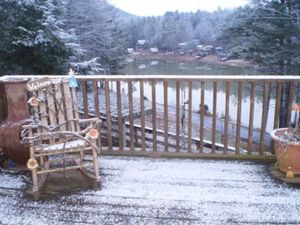 Rain will return Tuesday, but only briefly before moving out Wednesday.
Our weekend brush with snow wasn't much to write home about, but it did break a record for March 3 - but that record previously stood at zero snowfall.
Around here, we got a dusting, but some parts of northern Georgia got an inch of snow, maybe more in the mountains. It all melted pretty quickly.
Tuesday will be warmer, with the high expected to reach about 63, according to the
National Weather Service forecast
. Rain is expected to return, with showers and thunderstorms before 4 p.m., then showers likely. But the rain should move out by Wednesday, when the day's high will approach the low 50s, with the nighttime low dipping to about 31.
The daytime temps are set to make a return to the 60s headed into the weekend.