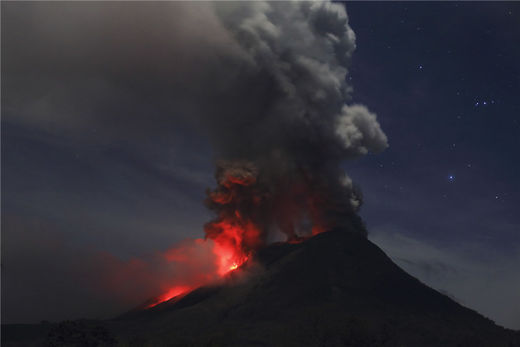 Current worldwide weather anomalies and drastic changes with the earth and sun give indication that some type of massive celestial object may be moving in to range, possibly even threatening the inhabitants of earth as emergency preparations by various nations have been taken
It's no big secret that weather patterns are drastically changing worldwide. In Indonesia alone
19 volcanoes were raised to alert status Tuesday
, after the Mount Sinabung eruption in North Sumatra killed 16 people last week. Three volcanoes in the region still remain on "high alert". This doevtails with seismic activity in the U.S. Yellowstone region which was also reported to have picked up recently, showing a clear trend of noticeable earth changes worldwide.
And what about the recent cold spell which broke cold weather records in over 50 cities across the U.S.? Shockingly, the temperatures even ran into the frigid negatives throughout pockets of the U.S. that typically never fall that low in temperature.
Influential weathermen, like NBC's
Today
's Al Roker, are now claiming that the "polar vortex" is to blame, a term listed in some 1959 weather publication entitled the "Glossary of Meteorology" and almost unheard of by modern society. Some weathermen say that the dense cold air has migrated down from the poles causing unusually abnormal weather patterns further south into the United States, making for the coldest spell in decades.
Strangely on Jan. 8, the
Today
show made mention of a "left winged global conspiracy" regarding the polar vortex, giving a force-fed tidbit to the masses. Take note that the seeding has already begun and corporate propaganda is already in full swing.