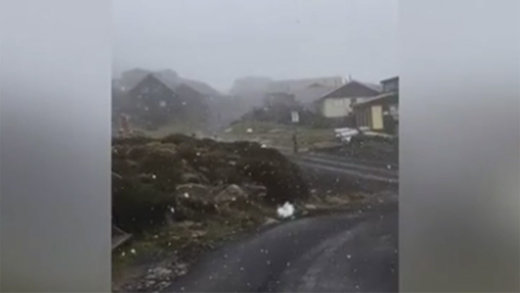 Just when you think the weather in Australia can't get any weirder, it always manages to, and then some.
With summer merely days away it has begun to snow in Tasmania.
Footage shows snow falling in our southern most state late Wednesday afternoon has gone viral and left internet users stunned.
The footage was uploaded to the Tasmanian Rover Ski Club social media accounts as a possible last minute push for potential ski bunnies to flock to the slopes.
"It is only 7 days until summer though you would not think that on Ben Lomond late this afternoon," the post reads.
The footage has been viewed over 170,000 times since it was first posted.
The temperature today in Tasmania will reach a low of 7 degrees.
Tasmanians could be witnessing a new trend, the Apple Isle having been struck by out-of-season around the same time last November and again in February this year.
In stark contrast, neighbouring Victoria this week experienced severe thunderstorms, high winds, grassfires and a steep drop in temperature from a November record high - all in one day.
A family of two near Bendigo had to be relocated after a tree came down on their house following winds of more than 100 km/h in some parts of the state on Monday afternoon.
The SES received more than 350 calls for assistance since 4pm on Monday as the severe weather hit.
"There was a big spike in just a couple of hours," SES spokesman Marc Dorey told AAP.
A severe weather warning was in place for the east and north of the state as the storms moved eastwards.
Apart from the wind, rain and thunder, Melbourne sweltered as the mercury rose to 35 degrees on Monday, before dropping abruptly.
"It fell around 10 degrees in 15 minutes,"
Bureau of Meteorology senior forecaster Stephen King said.
The hot weather also proved dangerous, with firefighters having to flee their truck while fighting a 320 hectare grass fire near Swan Hill.
Also due to the wild weather this week in Melbourne four people died following a storm that triggered a deadly health epidemic dubbed "thunderstorm asthma".
Father-of-two Clarence Leo died in the early hours of Tuesday after suffering an asthma attack, according to his colleague and Club Pandora manager Danny Saddoo.
"He had an asthma attack and there was nothing that could be done," Mr Saddoo told AAP.
"There wouldn't have been time for an ambulance to get to him."
A Department of Health spokesman said he was unable to give a running tally on the number of people who had died following Monday's rare phenomenon that led to an unprecedented 1900 emergency calls in five hours.
At one point there were 140 code-one cases occurring at the same time.
"We are aware of a number of deaths that may or may not be linked to the asthma thunderstorm on Monday night," the spokesman told AAP.
Ambulance Victoria will also conduct an internal review.
Meanwhile weather in Queensland is set for a scorcher with parts of the south east expected to surpass 37 degrees.