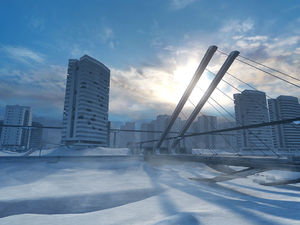 'CO2 is certainly a climate factor, but so is the Sun'
A team of boffins in Germany say they have found a statistical link between periods of low solar activity and very cold winters in Europe. Some physicists believe that a long period of low solar activity - like the "Maunder Minimum" of the 17th and 18th centuries -
could be on the cards in coming decades, so the new research might indicate an upcoming "mini Ice Age".
The new study was published over the weekend in the journal
Geophysical Research Letters
. Lead author Professor-Doktor Frank Sirocko of the Johannes Gutenberg Universität (University) of Mainz in Germany - and his colleagues - compared old records showing which years the Rhine river iced over to the record of sunspot activity.