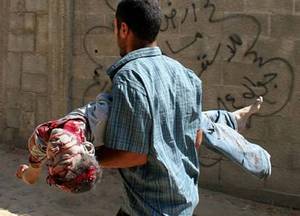 The archetypal Palestinian father and child - courtesy of Israel
3rd of March. Palestine. Occupied territory. Another day of carnage and Israeli atrocities against Palestinians.
Another day of trying to keep the emotions of outrage below the neck, because judging from acquaintances' responses and comments to Gideon Levy's
article
in
Haaretz
, "self-hating Jews" like us are "the cancer of the state that weaken Israelis from within until they are finally destroyed" and should be tried for treason, found guilty and shot by a firing squad. Interesting to notice that this is a typical deviant behavior: to accuse others of what you are yourself.
It is dangerous to express sympathy toward Palestinians when the whole country is intoxicated with murderous solidarity and calling for a complete annihilation of the "devious and heartless animals who's mothers send their children to act as human shields, while Israeli children wet in the bed in fear of hearing another 'Color Red' alert". Poor Israeli babies and Ashkelon citizens, who suffer from anxiety attacks while Palestinians die like flies. Because clearly their lives cost much less than the lives of the brave and moral residents of the "only safe place for Jews".