Today Sott editors came across a short entry on
Boingboing.net
featuring a photograph of Dick Cheney
posted on the "Outdoors" section
of the official US government Whitehouse.gov website.
The photograph is captioned "Vice President Dick Cheney spends an afternoon fly-fishing on the Snake River in Idaho."
See for yourself: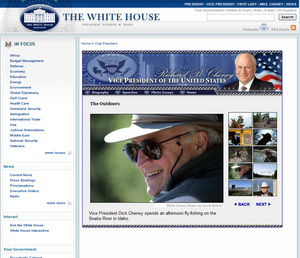 ©WhiteHouse.gov
And a close up: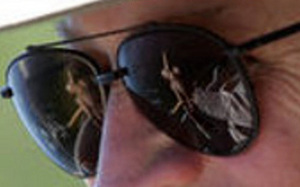 ©Whitehouse.gov
The poster on Boingboing.net suggested that the reflection in Cheney's glasses bears a resemblance to a naked human being, which brings to mind that story of Cheney
shooting his "friend" in the face
. The explanation that Cheney shot Whittington "by accident" being something of a joke. It is clear to the careful observer that the reflection really is just Cheney's hand, however, since the topic has been raised, we simply could not, in all conscience, turn down the opportunity to point out Dave McGowan's article from The Center for an Informed America,
where he muses on the idea
that perhaps Cheney
really does
enjoy playing "The Most Dangerous Game" from time to time.