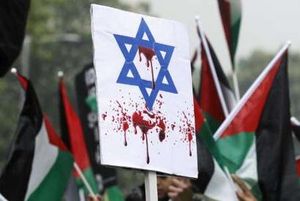 Israel's self-fulfilling prophecy moved one step closer to its tragic conclusion last month as its façade of normalcy slipped and the world glimpsed the true nature of the Zionist project in the Middle East. The massacre of innocents aboard the
Mavi Marmara
has galvanised global citizens to end the Siege of Gaza once and for all. But Israel's lunacy is altogether more dangerous following the UN's official acknowledgment that Israel is armed to the teeth with nuclear weapons. Its willingness to use them "by way of deception" strengthens the likelihood of a false-flag nuclear attack being carried out to avenge humanity's non-existent "victimisation" of the "Light unto the Nations."
We will examine the latest ridiculous case of "homegrown terrorism" in the US which took place on the eve of momentous discussions on nuclear disarmament in New York City, as well as the framing of North Korea for the sinking of the South Korean warship
Cheonan
. Was Israel involved in both events? The hysteria these two attacks generated as well as their timing certainly indicates that somebody is blowing smoke to distract people from moves on the grand chessboard. The clownish Times Square car bomb was not the real terrorist act in New York last month. Financial terrorists held the US government hostage until it reversed its decision to break up organised crime on Wall Street. Is the eurozone debt crisis similarly contrived?
The devastation in the Gulf of Mexico is more than Obama's "Hurricane Katrina." It is a crime against Nature that could easily have been averted. The Earth will continue to bleed oil until enough people wake up from their slumber. The methane gas explosion at the
Deepwater Horizon
oil rig is another wake-up call to the dangers of our pervasive and persistent wishful thinking about the world around us, our role in it and the consequences of giving away our power to those
least capable
of using it responsibly. At the same time, Nature plays its part as the planet continues to open up and methane bubbles up to the surface. There were at least three volcanic eruptions in May which dwarfed last month's hyped performance from Eyjafjallajokull. Many more have been placed on 'alert' status.
Major events of global significance are taking place on an almost daily basis now. While some could be considered "natural events", reflecting back to us the chaotic state of our world, others are willfully perpetrated to intensify chaos and distract attention from the desperate maneuvers of our intra-species predator to retain control of an environment that is rapidly changing. No deed is too abhorrent for them to purposely commit, no lie too big for them to utter. The people of Thailand may have lost the battle against its pathocratic government, but their struggle for justice against the forces of fascism is mirrored in the wave of righteous anger demonstrated by Greeks who will not submit quietly to the diktats of the faceless financial terrorists, as well as the shock-waves of revulsion at Israel's barbarity that reverberated around the world.
Let's Connect the Dots of May's mayhem...