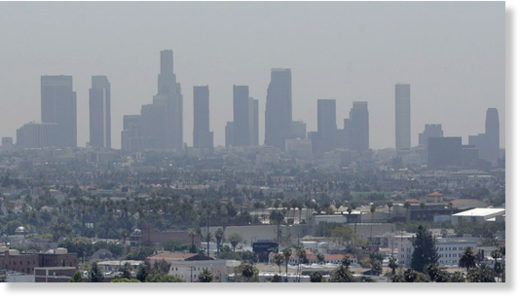 Airborne particulate matter emitted by automobiles and power plants in urban areas may account for 21 percent of dementia cases and may nearly double the likelihood that women older than 64 years will develop cognitive impairment, a new study says.
The chances of developing dementia increase by around 92 percent for women ages 65 to 79 who are exposed to air pollution consisting of particulate matter up to 2.5 micrometers (PM2.5) in diameter, a level that exceeded US Environmental Protection Agency standards from 2012, according to the
study
, released this week in the journal Translational Psychiatry.
Applying the study's findings to the population beyond older women, PM2.5 could be the cause of about 21 percent of all dementia cases, according to the University of Southern California researchers responsible for the study. PM2.5 "mainly comes from power plants and automobiles," researchers
said
in a news release.
"Microscopic particles generated by fossil fuels get into our body directly through the nose into the brain," said Caleb Finch, co-senior author of the study and a professor at the University of Southern California's Leonard Davis School of Gerontology. "Cells in the brain treat these particles as invaders and react with inflammatory responses, which over the course of time, appear to exacerbate and promote Alzheimer's disease.