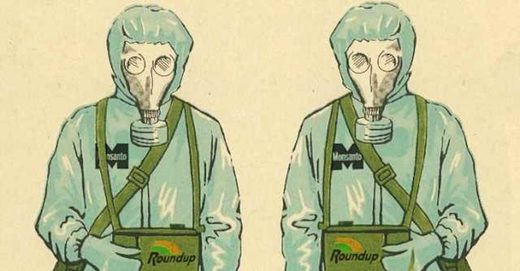 The Environmental Protection Agency has been involved in a number of controversies over the years, such as the Gold King Mine spill or their silence on the use of fracking wastewater on farmland. Now, the federal agency is under fire for their collusion with one of the world's most evil companies: Monsanto.
Monsanto has become infamous for their genetically modified seeds, and for manufacturing one of the most widely used herbicides, Roundup. Their star weed-killer has gained notoriety of its own, thanks to its toxic active ingredient, glyphosate. While the corporate behemoth claims that the product is safe, there is much evidence to the contrary; even the World Health Organization has declared that glyphosate is a "probable carcinogen."
But like all soulless corporations, Monsanto has been using their prowess to keep the lid on glyphosate's carcinogenic nature. But all good times must come to an end, and a revealing letter from a now-deceased EPA scientist could hopefully be the beginning of Monsanto's end.
USRTK, a non-profit working for accountability in our nation's food system, originally uncovered a
heart-breaking letter former EPA scientist Marion Copley
, who passed away from cancer. In this letter, Copley begs fellow EPA employee Jess Rowland to protect the public from glyphosate's toxic nature, rather than continue to cow-tow to Monsanto's influence. "For once in your life, listen to me and don't play your political conniving games with the science to favor the registrants.
For once do the right thing and don't make decisions based on how it affects your bonus
," Copley writes.