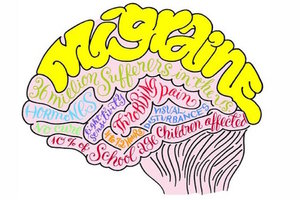 Migraines affect 38 million men, women and children in the U.S. every year.
1
They are much more than simply bad headaches, but rather are a neurological disorder, considered to be one of the more common disorders of the nervous system.
2
Migraine headaches in children may also include abdominal pain and mood changes.
3
Concurrent symptoms of migraines that are common to both adults and children include visual disturbances, nausea, vomiting, dizziness and sensitivity to sound, light, touch and smell.
Migraine headaches
are considered a vascular event as the migraine triggers changes to the size of the arteries both inside and outside the skull.
4
Eighty percent of people who suffer from migraines have a family history of them.
While the exact cause of migraines is unknown, researchers have identified specific chemical compounds that may trigger migraines, and others that may help prevent them.