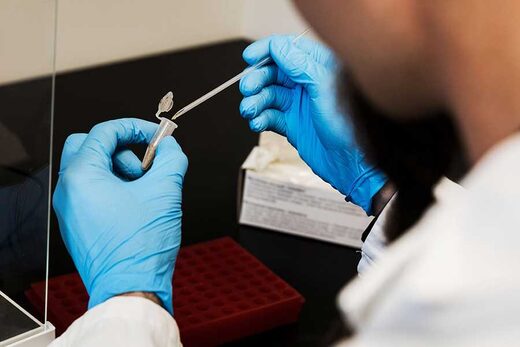 Just as antibiotics breed resistance in bacteria, vaccines can incite changes that enable diseases to escape their control. Researchers are working to head off the evolution of new threats.
Andrew Read
became a scientist so he could spend more time in nature, but he never imagined that would mean a commercial chicken farm. Read, a disease ecologist who directs the Pennsylvania State University Center for Infectious Disease Dynamics, and his research assistant Chris Cairns meandered their way through a hot, humid, pungent-smelling barn teeming with 30,000 young broiler chickens deep in the Pennsylvania countryside. Covered head to toe in white coveralls, the two men periodically stopped and crouched, collecting dust from the ground with gloved hands. Birds squawked and scuttered away. The men transferred the dust into small plastic tubes, which they capped and placed in plastic bags to bring back to the laboratory. "Funny where science leads you," Read said.
Read and his colleagues are studying how the herpesvirus that causes Marek's disease — a highly contagious, paralyzing and ultimately deadly ailment that costs the chicken industry more than
$2 billion a year
— might be evolving in response to its vaccine. Its latest vaccine, that is. Marek's disease has been sickening chickens globally for over a century; birds catch it by inhaling dust laden with
viral particles
shed in other birds' feathers. The
first vaccine
was introduced in 1970, when the disease was killing entire flocks. It worked well, but within a decade, the vaccine mysteriously began to fail; outbreaks of Marek's began erupting in flocks of inoculated chickens. A
second vaccine
was licensed in 1983 in the hopes of solving the problem, yet it, too
, gradually stopped working
. Today, the poultry industry is on its third vaccine. It still works, but Read and others are concerned it might one day fail, too — and no fourth-line vaccine is waiting. Worse, in recent decades, the virus has become more deadly.