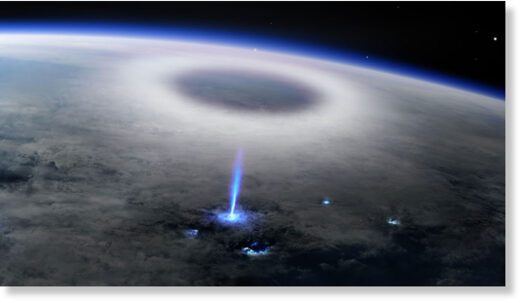 Intense flashes lasted only 10 milliseconds, observers say
A blue jet - a bolt of lightning that shoots upwards from thunderstorm clouds - has been spotted from the
International Space Station.
The phenomenon was spotted by the European Atmosphere-Space Interactions Monitor (ASIM) near the island of Naru in the Pacific Ocean.
In an article published in the science journal
Nature
, astronomers describe seeing five intense blue flashes, each lasting about 10 milliseconds.
Four of the flashes were accompanied by a small pulse of ultraviolet light, which appear as rapidly expanding ring. They are formed by the interaction of electrons, radio waves and the atmosphere and are known as elves (Emissions of Light and Very Low Frequency Perturbations due to Electromagnetic Pulse Sources).