A tanker with 13 crew on board is in difficulty off the Isle of Wight as storms batter southern England.
The Swedish registered Astral began dragging anchor about one mile (1.6km) to the east of the island and was at risk of coming ashore.
Several tugs have managed to secure the 11,000 tonne ship and it is under tow to Southampton.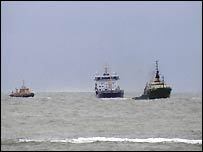 ©Unknown