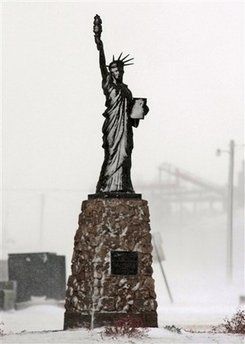 Omaha, Nebraska - Wind-blown snow whipped across the northern Plains on Tuesday, closing major highways, as a powerful storm stalled over western Nebraska and South Dakota.
In neighboring Montana, the Army National Guard dispatched two helicopters to help locate motorists stranded by a snowstorm in southeastern part of the state.
"We do know we have some motorists out there, but we don't know where. So we have a serious situation," Charity Watt Levis, a spokeswoman for the Montana Department of Transportation, told The Associated Press.
Nearly 2 feet of snow had piled up in South Dakota's rugged Black Hills, and the storm system also had generated tornadoes.
The blowing snow cut visibility and piled up in drifts as much as 4 feet high in parts of Wyoming.
"We have wind gusts to 62 mph at Valentine this morning," said National Weather Service meteorologist Clifford Cole in North Platte, Nebraska.