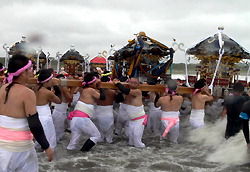 Chiba -- Lightning struck and wounded 34 people at a festival in Isumi, Chiba Prefecture, on Sept. 23, leaving two of them seriously injured, local fire department officials said.
The lightning strike occurred at around 6 p.m. at Ohara Elementary School during the "Ohara Hadaka Matsuri" (Ohara naked man festival), hitting 32 males and two females carrying portable shrines. A 65-year-old man and a 13-year-old boy were seriously injured.
The festival's executive committee told a news conference that the event's 18 portable shrines had been gathered onto the school grounds, and just as the festival was about to finish its climactic farewell ceremony, lightning directly struck two portable shrines that had been raised high into the air.
The injured were moved to the school's gymnasium and those requiring medical attention were sent to a hospital.