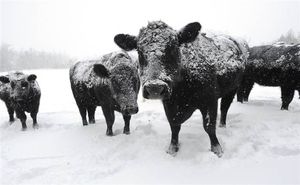 An icy blast tugged temperatures well below zero in a large swath of the South on Thursday, setting records for cold by late morning.
Forecasters had predicted lows of minus 11 degrees in northwest Arkansas and minus 10 degrees in parts of Oklahoma. But temperatures instead dipped to minus 18 in Fayetteville and to minus 28 in Bartlesville, Okla.
Nowata, Okla., recorded 31 degrees below zero - setting a new record low for the state
. The previous lowest temperature in Oklahoma history was 27 below in 1930 and 1905, said Gary McManus, associate state climatologist with the Oklahoma Climatological Survey.
"We just had a very cold arctic air mass and a heavy snow pack and that allowed the temperatures to plummet when the wind died down," said McManus. "We got much colder temperatures than anyone thought would occur."
But states hit by the cold are expecting a thaw soon. McManus said temperatures in Oklahoma should rise to the 60s over the weekend and the 70s next week.
The wheat crops in both states were protected by a blanket of insulating snow, but the deep freeze increased stress on livestock, especially feedlot cattle.
In an area of the nation unaccustomed to such snow and subzero temperatures, the freeze had cattlemen such as Paul Marinoni crossing their fingers that pregnant cows won't give birth during the coldest hours. The newborns could stick to the ground, much like tongues on a flagpole, and die, Marinoni said.
"How do you prevent it?" Marinoni, 70, said from his farm outside Fayetteville. "You can't."
Marinoni said he leaves the cows out overnight because they're too messy to stay inside a barn. Even before the temperatures dipped to well below zero, some cows had collected fins of icicles down their backs as the snow.
"There ain't no way to keep them warm," he added.
"Minus 17 with about 20 inches of snow," he said of the conditions Thursday morning. "I've never seen anything like it."
Marinoni eventually made it out to his cattle and found that all 70 had survived and none had given birth. But he said none of his three new tractors would start.
The frigid temperatures followed a powerful blizzard that howled through the nation's midsection Wednesday and made its way into the Deep South, where it brought a mix of rain and snow to some areas.
More than 1,200 flights were canceled due to the storm Wednesday, according to the tracking service FlightAware.com.
The heaviest snow Wednesday was concentrated in the northeast corner of Oklahoma, where the towns of Colcord and Spavinaw got 22 and 23 inches, respectively. The deepest snow was reported near the village of Jay, with 25 inches.
Three people, including a mother and her infant, died in traffic accidents Wednesday along a snow-covered highway in Arkansas, and another woman was killed when she lost control of her vehicle in Springfield, Mo.
A van carrying prisoners skidded on ice and crashed on a highway in eastern Oklahoma on Thursday, injuring two prisoners. Blowing snow brought traffic to a halt in some areas and abandoned cars choked major highways after some drivers gave up and walked away.
The fresh snow was especially troublesome in Tulsa, Okla., where many roads were still impassable from last week's record 14-inch snowfall. The previous storm kept students out of school for at least six days. Mail, bus and trash service were only recently restored.
Five more inches of snow fell Wednesday in Tulsa, according to the National Weather Service. That raised the city's total for the winter to 25.9 inches,
breaking the previous seasonal record
of 25.6 inches, set during the winter of 1923-24.
Elsewhere in Oklahoma, ranchers struggled to keep their herds well fed and hydrated. Danny Engelman spent hours tending to some 300 cows.
"If the temperatures get down to zero, with wind chills of 20 below zero, you've got a good chance of losing a calf," Engelman said. "Sometimes you've got to put them in the pickup and get some heat on them."
Most ranchers prepare for winter storms by giving their cattle the right food to build up their energy reserves.
"If their belly is filled with high-protein feed, they can withstand incredible cold," Engelman said.
Meanwhile, poultry farmers will burn a lot of propane in the next few days trying to heat their chicken houses, said Dustan Clark, an Extension Service poultry veterinarian at the University of Arkansas.
"It's a balancing act - ventilating the house to keep it from getting too damp, bringing in the cold air, and heating it to keep it from getting too cold," he said.
In the Northeast, the Weather Channel reported that cold air blowing across Lake Ontario would result in a "fairly strong band of lake-effect snow" across western New York between Watertown and Syracuse Thursday. It said this could potentially bring one to two feet of snow by the evening.
The Associated Press and Reuters contributed to this report.