Forecasters warn that more severe weather is on the way as rain and gales pummel parts of Britain.
Sky weather forecaster Lucy Verasamy said even stronger winds were on their way, especially for the South West and coastal areas, after gusts of 80mph battered the south.
Solent Coastguard has been told to expect gusts up to a violent storm force 11 this afternoon.
"The worst is yet to come," Lucy said.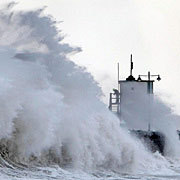 ©Unknown
Waves batter South Wales