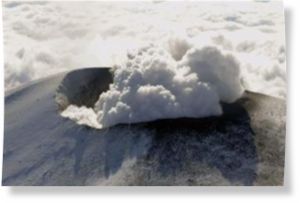 A volcano near Tokyo erupted Monday, shooting up billowing smoke and showering parts of the capital with a fine ash that sent some city residents to the car wash and left others puzzled over the white powder they initially mistook for snow.
Mount Asama erupted in the early hours of Monday, belching out a plume that rose about a mile (1.6 kilometers) high, Japan's Meteorological Agency said.
There were no reports of injuries or damage from the eruption of the volcano, 90 miles (145 kilometers) northwest of Tokyo. It last erupted in August, 2008, causing no major damage.
Chunks of rock from the explosion were found about 3,300 feet (1,000 meters) away from the volcano. Ash was detected over a wide area, including central Tokyo and as far as eastern Chiba.
In Tokyo's western district of Fussa, the local government office was flooded with calls from residents asking about "the mysterious white powder" falling from the sky and fire departments fielded calls from people afraid the ash was from a nearby blaze.
In the town of Karuizawa, southeast of the volcano, the ash was thick enough to obscure road markings in some areas, town official Noboru Yanagishi said.
"Some people said they heard a strange noise in the morning when the eruption occurred," he said.
The eruption was not big enough to disrupt daily life near the volcano, though many people awoke to find their cars covered in a fine layer of powder. National broadcaster NHK showed people in Tokyo lining up to get their cars washed or wiping the ash from their windows, with some drivers saying they first thought it was snow.
In Tachikawa, a district in northwestern Tokyo, some farming areas were coated with ash.
"Because it's February and not harvesting season, there was no real damage to any crops," said Shoichi Matsumoto, a local official.
In Tsumagoi, a small town on the volcano with ski resorts and hot spring baths, residents went about their business as usual. Travelers planning vacations to the area had called to inquire, but no one canceled, said Masaru Yoshida, a spokesman for the local tourist association.
"The wind has blown the ash to the other side of the mountain," he said. "It's a clear day so you can see some smoke, but not as much as we've had in the past."
Mount Asama has been active for thousands of years.
Its last major eruption took place in September 2004, spewing enough ash to damage local crops. It frequently spews smaller amounts of ash from its crater.
With 108 active volcanos, Japan is among the most seismically busy countries in the world. The country lies in the "Ring of Fire" - a series of volcanoes and fault lines that outline the Pacific Ocean.
Later Monday, the agency also reported a minor eruption at another volcano - Sakurajima in southern Japan.
An alert level of three was in place Monday for a 2.5-mile (4-kilometer) radius, which bars entry into the area and urges nearby residents to take caution.
"We don't think there will be any stronger eruptions, but we don't see the activity stopping anytime soon, either," agency official Kazuya Kokubo said.