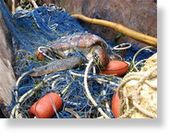 Diani, Kenya - Plastic fishing nets - some bought for poor fishermen with American aid money - are tangling up whales and turtles off one of Africa's most popular beaches.
One recent victim was a huge dappled whaleshark that bled to death after its tail was cut off by fishermen unwilling to slash their nets to save it. In another case, divers risked their lives to free a pregnant, thrashing humpback whale entangled in a net last summer.
Both incidents occurred off Diani beach, which is popular with American and European tourists.
The fishermen have traditionally used hooks and hand lines to haul in their catch, which they then sold to hotels full of tourists. But the use of plastic nets has become increasingly common as growing populations have competed to catch shrinking supplies of fish, marine biologist David Obura said.
In 2003, USAID began a four-year project worth $575,000 to improve the lives of coastal communities. It worked on a project with a Kenyan government agency that included providing freezers for the fishermen to store their catch, along with boats and nets.
But the plastic nets are destroying the very ecosystems that the fishermen depend on and the tourists come to see, said Daniel Floren, who runs a local diving school.
Officials, experts and even the fishermen themselves acknowledge the nets are killing wildlife and coral.
"Without the reefs, there will be no diving. If we have nothing to show, I'll have to shut up shop," Floren said.