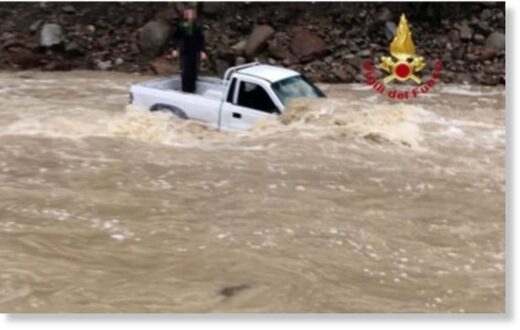 A wave of severe weather swept across Italy from 22 November 2022, including strong winds, high waves, storm surge and heavy rain. Emergency services carried out 2,500 interventions in 8 regions.
Italy's fire service Vigili del Fuoco reported a total of 2,500 interventions due to severe weather in 24 hours
to 23 November 2022, including 715 in Lazio Region; 480 in Campania; 470 in Sardinia; 200 in Sicily; 300 in Veneto; 210 in Emilia Romagna and 180 in Friuli-Venezia Giulia.
Local media said the severe weather was brought by Storm Denise, which also affected the French island of Corsica.
Many of the interventions were in response to damage caused by strong winds, including roofs ripped off buildings, and downed trees, branches and power lines. Vigili del Fuoco reported winds of more than 100 km/h in Trieste in Friuli Venezia Giulia Region.
Stormy weather and roughs seas also affected areas in Sicily where ferry services were disrupted from the port at Milazzo.