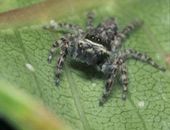 Forget stealing from the mouths of babes, zoologists have observed a similarly heinous crime - spiders stealing food from the mouths of ants.
At Mbita Point on the shores of Lake Victoria in Kenya, the walls of the buildings and other surfaces are covered with insects, including thousands of tiny lake flies. Within the throng lurks
Menemerus
, one of the jumping spiders or saltacids.
These predatory spiders adopt an approach similar to the big cats when hunting. They move very slowly, with their body close to the ground, before leaping on their prey.
Stalking is helped by extremely good vision: there are eight eyes in total, and importantly, two that face forward. These anterio-medial eyes have a visual acuity about one sixth as good as humans and let them "see like a primate and hunt like a lion," says Simon Pollard from the University of Canterbury in Christchurch, New Zealand, who led the study.
Jumping spiders are also are known to be capable of solving cognitively complex tasks.