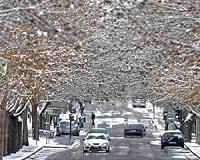 Snow fell in parts of Spain for the first time in half a century Monday as a wave of Arctic cold that has killed scores of people and caused billions of euros in damage to Europe's economy swept southwards.
As villages in parts of north-east Germany remained cut off from the outside world by giant snowdrifts, authorities sounded the alert in 18 regions across central and northern Spain in anticipation of further snow and icy temperatures.
More than 270 flights were cancelled at Madrid-Barajas airport, while neighbouring Portugal also struggled to cope with snowfall which caused the closure of around 50 main roads. Scores spent the night stuck in their vehicles.
The southern Spanish city of Seville, which normally enjoys temperatures in January of around 15 degrees Celsius (59 degrees Fahrenheit), shivered under its first snowfall in half a century.
So many people called friends and family to alert them to the rare snowfall that the mobile phone network in the region briefly collapsed, local media reported.
Classes were cancelled for more than 160,000 children across Spain because of the ice and snow.
Northern Europe enjoyed something of a respite but forecasters warned that temperatures were set to plummet below minus 10 Celsius (14 Fahrenheit) overnight in parts of Germany, with heavy snow showers and strong winds expected again on the Baltic coast.
"Conditions are expected to get calmer as the week progresses, but what might cause problems is the move to milder weather as that will bring rain, and freezing rain," meteorologist Alexander Hildebrand said.
"We can't give the all-clear yet. In the whole of Germany drivers have to expect ice and snow," Maxi Hartung from the German Automobile Association (ADAC) said.
At Frankfurt airport, Europe's third busiest, where some 320 flights were cancelled at the weekend, 15 more were scrapped on Monday and authorities warned of further problems as air traffic slowly gets back to normal.
Police in the northern regional capital of Schwerin meanwhile said a giant swastika measuring five metres (16 feet) across had been carved in the snow on a frozen lake.
In southern Poland, more than 70,000 homes were without power for a second day while heavy snow and freezing rain hit rail traffic between Warsaw and the south.
Prague has had its heaviest snowfalls in 17 years and hundreds of homes across the Czech Republic were without electricity.
In Britain, icy roads and snow showers hampered efforts to get the country moving again.
Eurostar said train services from London to mainland Europe would be reduced to around 80 percent of normal capacity on Tuesday, and the company's website warned passengers of delays and cancellations.
The death toll in Britain from weather-related incidents rose to at least 29 over the weekend, reports said, with the latest victim a man who fell through ice on the River Tees in the north of the country as he tried to rescue his two dogs.
Scores of deaths in similar accidents, mountain avalanches or homeless people killed by the cold have been reported across Europe over the past two weeks.
In France, there were lengthy delays on TGV high-speed rail links, while more than 100 flights have been cancelled at Nice airport, the country's third busiest.
Freezing conditions have also led to a hike of between 10 and 20 percent in the price of some vegetables in France, as farmers struggle to harvest their crops, according to an export official at the Kerleguer wholesale company.
The cold snap has meanwhile caused severe disruptions to natural gas exports from the world's second-biggest gas exporter Norway, pipeline operator Gassco said.
Experts in Germany, which is emerging from its worst recession since World War II, warned that the blanket of snow covering the whole country would hit the economy, freezing construction activity and disrupting supplies.
"The cold weather could really make for a difficult start to what is meant to be a year of growth in 2010," Volker Treier from the DIHK economics institute told the Bild daily.
If there is no improvement soon, the German economy could lose around two billion euros (three billion dollars) in lost activity, or 0.4 percent of gross domestic product (GDP) in the first quarter, he said.
Britain, which is still in recession, is on course to take a hit of 1.0 billion pounds (1.1 billion euros, 1.6 billion dollars) from the harshest winter in decades, according to the Centre for Economics and Business Research.
But economists believe the impact will be mitigated by Britons working at home to beat the freeze, benefiting utilities and Internet retailers as they turn up the heating and shop online, and that the economy will bounce back.
Meanwhile Albania has been contending with a different type of extreme weather, as disastrous floods engulfed more than 10,000 hectares (25,000 acres) of farmland.
Source: Agence France-Presse