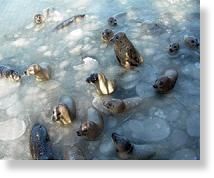 Northern China braced for another blast of frigid air Monday, as coal shortages neared "alarming" levels due to surging power use amid a prolonged cold snap, the government and state media reported.
The new cold front is expected to send temperatures plummeting -- to as low as minus 35 degrees Celsius (-31 degrees Fahrenheit) in northern Heilongjiang province -- for much of the week, the central weather bureau said.
Icy weather has gripped northern China since the start of the year, with heavy snows snarling air, road and rail traffic last week, and the diving mercury causing a spike in power use.
The situation has crimped power supplies as weather-related transport bottlenecks have disrupted coal shipments to power stations.
The National Power Dispatch and Communication Centre said that as of Sunday coal reserves at 205 power plants had dwindled to the "alarming" seven-day supply level, Xinhua news agency reported.
It said another 598 major power plants had seen reserves fall to nine-day supplies.
The situation has caused several provinces and regions to ration electricity or take other power-saving moves to reduce strain on electricity grids.
Xinhua said Shanxi, Shandong, Henan, and Hubei provinces as well as the huge southwestern municipality of Chongqing were still rationing as of Sunday.
Temperatures in Beijing -- which hit its lowest point since 1971 last week -- were forecast to drop to lows of minus 15 Celsius by Tuesday before edging up to highs of around zero degrees on Friday, the central weather bureau said.
The government was rushing tents and other relief supplies to the northwestern Xinjiang region after heavy snow killed one person and forced the evacuation of nearly 5,500 others, Xinhua said at the weekend.
Snowstorms which raged until Friday also "flattened" 799 houses and damaged nearly 5,000 others, it had said.
The spike in energy demand has resulted in a 15 percent increase in coal prices in north China compared with a month ago, the
Beijing News
reported.
Production in China's major coal region of Shanxi has fallen due to the widespread closure of mines under a new safety reform plan, further pushing prices upwards, the
Yangcheng Evening News
said.
But due to the shortages and rising prices, people were seeking cheaper coal from small mines, the paper said, indicating that a black market for the fossil fuel was already developing and mines were opening illegally.
Meanwhile, coal transport prices fluctuated wildly, rising 12.4 percent at the Shanghai Shipping Trade Centre last week when shipments were hampered by snow before falling by more than 11 percent this week, the
Beijing Times
said.
According to Xinhua news agency, the cold snap has resulted in the most severe sea ice in north and eastern China in three decades, with ice breakers scampering to keep sea lanes free and navigable.
A large portion of the coal from north China is shipped to the south by sea.