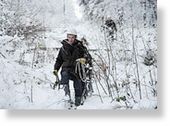 Lyon - Heavy snow and rain storms across southern France killed three people, cut power lines and trapped hundreds in cars and trains and ski lifts on Sunday.
About 100,000 households were without electricity, local authorities and the French power company said. Two thousand people were stuck for several hours on trains running along the Mediterranean coast that were halted when torrential rain brought down power lines.
Up to 60 centimetres (24 inches) of snow fell in hilly regions over 24 hours and the French weather service issued avalanche alerts for 12 departments.