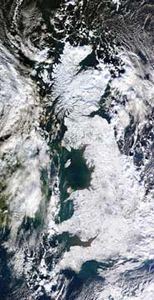 The death toll from Britain's biggest freeze for decades reached 22 today as the country prepared for its coldest night so far, bringing the promise of even more treacherous conditions.
Thousands of homes have been left without power, schools have closed and travellers have faced chaos as the weather hit roads, rail services and airports over the last two days. The disruption is estimated to have cost businesses around £700 million.
Councils continued to struggle with a growing salt emergency as police warned drivers in many areas not to travel unless their journey was essential.
The AA expect to have attended 20,000 breakdowns today - compared with about 9,000 for a normal Thursday - and warned that conditions were expected to remain "treacherous".
Meanwhile, the shutdown of an offshore Norwegian gasfield pushed Britain's gas infrastructure into emergency mode, forcing the closure of industrial companies in the north of England in order to preserve supplies to homes, shops and offices.
Although major airports stayed open, some air passengers had long waits for their flights, particularly at Gatwick, on the outskirts of south London, where more than 130 flights were cancelled. EasyJet had to axe more than 100 flights and British Airways was among other carriers that had to cancel some services.
The body of Philip Hughes, 45, from Slough, was recovered from beneath ice at the Lakeside Country Club in Surrey where he was watching the world darts championship. A spokesman said it appeared to have been a "tragic accident".
His death brings to 22 the toll of people killed by conditions related to the weather since the cold snap began on December 18.
One of the suppliers of rock salt, Cleveland Potash, said it was struggling to meet demand with a spokesman saying that Cheshire's salt mine, the biggest supplier of
rock salt
in the country, only had
a few days' supply left.
Harrow council, in north-west London, described its wait for supplies of rock salt as "pretty outrageous" as it came close to completely running out.
In the House of Commons, Sadiq Khan, the Transport Minister, said the Government was doing "everything possible" to keep the UK's road network open.
However Boris Johnson, the Mayor of London, said: "This is not a dress rehearsal, it is the real thing, and everything must be done to get the supply moving and avoid the situation of London running out of salt to keep the roads open."
National Grid, which operates Britain's gas network, issued a warning this morning that the system would run short of supply when pressure dropped in Langeled, a pipeline that brings gas from Norway to a terminal at Easington on the East coast of England.
With demand for fuel at record levels, some gas companies cut off supplies to some industrial customers on interruptible contracts. These special contracts are often chosen by energy-intensive companies, such as chemical businesses, steel, glass or cement makers, who get cheaper rates if they agree to be cut off in exceptional circumstances. The pipeline later reopened.
Temperatures in part of the UK dropped as low as -17 in some areas last night, but were predicted to fall to their lowest level yet tonight, with some regions set to suffere conditions similar to a domestic freezer. Forecasters said temperatures of minus 20C could be expected in some of the Highland glens while Manchester could expect -11 and London -3.
* Gordon Brown and the Cabinet have been forced to postpone planned visits to the South and the South West over the next couple of days because of concerns that the trips might divert the efforts of police and other authorities from dealing with the impact of snow.
* Farmers are facing a race against time to get food to starving sheep trapped in snow-covered fields. Blizzards and drifting snow have prevented farmers from moving sheep to fresh pastures. Instead, the animals are stuck on land without grazing. The problem has been intensified by a shortage of hay.
* A priest and 18 other passengers stranded at Gatwick slept in the airport's chapel on Wednesday night. Although airport rules ban people from sleeping in the prayer room, Minister Kes Grant from south London led the crowd in there because "people just needed to sleep somewhere and I knew about the chapel".
* Wildlife are struggling to survive in the harsh weather conditions, conservation groups have warned. The RSPB has urged householders to improve birds' chances of survival by putting food out, including fat balls and crushed peanuts.
* Insurers say they have seen a sharp rise in home and motor claims as a result of the freezing weather. Many firms reported an increase of up to 50 per cent in the number of claims, particularly for burst pipes.
* A 10-year-old boy had to rescued after plunging down a manhole outside a property development in High Wycombe, Buckinghamshire. The manhole had been covered by a piece of carpet and obscured by thick snow.
* Sales of shovels have soared by 40 per cent compared with the same week last year. Robert Dyas, the home and garden retailer, said that sales of de-icer and scrapers had also risen by 50 per cent year-on-year.
* An RAF Chinook helicopter forced to make a precautionary landing in Winterborne Whitechurch, Dorset on Monday night has been turned into a local tourist attraction after snow left it grounded. Engineers could not reach the Chinook so the four man crew gave tours of the cockpit to local schoolchildren.
* The Organic Milk Suppliers Co-operative, which supplies more than 80 per cent of organic milk to supermarkets, said it may have to dump more than 100,000 litres due to devastating weather conditions which have hampered storage, collection and deliveries.
* Antony Jinman is using the wintry conditions to train for a trek to the Arctic. The 28-year-old usually has to train at night by dragging tyres but the snow and ice means he has spent the past few days using his top-of-the-range Artic sleigh.
* A sledge company has been selling 14,000 sledges a day since the snow started falling, up from its normal 2,000 daily total for this time of year. Sledge.co.uk, based in Glenmore, near Inverness said it had now sold out of sledges and was awaiting new supplies.
* A 16-year-old boy was killed and his mother seriously injured after they were involved in a car crash and then hit by lorry as they tried to reach the hard shoulder on foot. The pair were travelling on the A1 near Richmond, North Yorkshire at around 10pm on Wednesday night.
David Byers, Carl Mortished and Nico Hines contributed to this report.