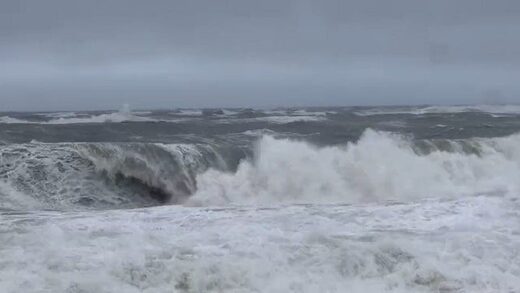 Post-Tropical Cyclone Ophelia made landfall in North Carolina early Saturday morning as a strong tropical storm, battering the mid-Atlantic states with ferocious winds, heavy rain and a dangerous storm surge that led to widespread flooding across the region.
Large waves continue to batter the coast, and some areas have started to see strong winds and heavy rain again as the remnants of what was once
Tropical Storm Ophelia
continue to make their way from the mid-Atlantic into the Northeast, causing widespread flooding and tens of thousands of power outages along its journey.
High tide occurs around 3:30 p.m. Sunday in Manasquan, New Jersey, and FOX Weather meteorologist Jane Minar says waves are getting larger and water is flowing higher as conditions worsen.
"We have 9-12 foot breakers right now, and you can just see how choppy the seas are," Minar said. "Typically, on a nice summer day, this is where you have dozens of surfboards in the water. Not one today. And that's a smart decision because it is so dangerous. These waters, there is so much energy."