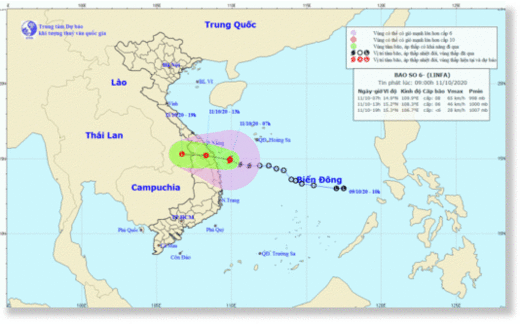 Tropical Storm Linfa made landfall over Quang Nam and Quang Ngai provinces in Vietnam on 11 October 2020.
The storm brought further heavy rainfall to central provinces of Vietnam. Ta Long in Qang Tri province recorded 210 mm of rain, and Quang Dien and A Luoi in Thua Thien-Hue both saw 182mm in a 24 hour period to 12 October. Central Vietnam has been plagued by heavy rain since around 05 October, with many provinces seeing severe flooding and landslides.
15 dead after 7 days of floods
Some areas of central Vietnam have seen over 1.5 metres of rain in the last week
. In a period from 05 to 11 October, Huong Linh in Qang Tri province recorded 1,520 mm of rain and A Luoi in Thua Thien-Hue 1,888 mm.
As of 12 October, Vietnam's Disaster Management Authority (DMA) reports that severe flooding and landslides in the central region have left
at least 15 people dead, with a further 3 lives lost in shipping incidents. Floods and landslides have left 10 others missing since the start of the severe weather spell. Four people are still missing at sea.