Two storm systems colliding along the nation's midsection set off a spate of weather warnings from Colorado to Ohio as the deadly combination moved toward the Great Lakes on Wednesday.
Twenty-five people have been killed, mostly from flooding, according to media reports.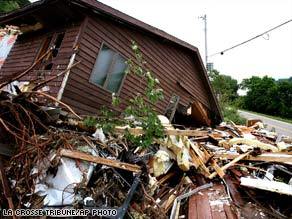 ©La Crosse Tribune/AP
The home of Lynn and Sharon Parding lies in ruin along Highway 26 north of Brownsville, Minnesota, Wednesday.