A major winter storm struck the northeast Friday morning, with snowfall causing massive delays at airports, closing schools and snarling traffic on streets and highways in the region.
Snow started falling earlier than expected, before daybreak, with four inches measured at mid-morning in Manhattan's Central Park. A total of six to nine inches was expected before the snow is to change to sleet and rain in the afternoon.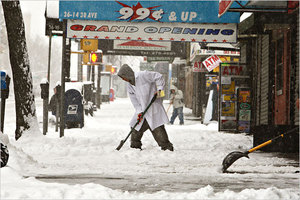 ©Unknown
Employees clearing snow in a commercial area in Queens.
Arrival delays of more than five hours were reported by the Federal Aviation Administration at Kennedy and Newark airports with a lesser delay of slightly more than three hours at La Guardia.
Philadelphia Airport also reported delays of more than five hours, and delays were expected at Logan Airport in Boston later in the day as the storm moved in that direction.
More than 800 flights were canceled in the New York area, according to Steve Coleman, a spokesman for the Port Authority of New York and New Jersey. They included 330 at Newark, 450 at La Guardia and 40 at Kennedy. The schedule at Kennedy is weighted toward the afternoon, so the number of cancellations there could grow, Mr. Coleman said.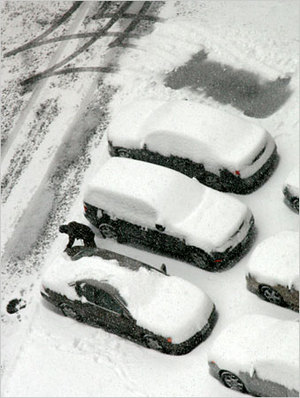 ©Librado Romero/The New York Times
A parking lot in the Riverdale section of the Bronx.
At the Port Authority Bus Terminal in midtown Manhattan, hundreds of travelers were stranded as bus runs were canceled as well. Several carriers, including Greyhound and Peter Pan, scrubbed most of their schedules for the day.
The speed limit on the New Jersey Turnpike was reduced to 35 miles per hour, and numerous automobile accidents were reported on the highway, although there were no serious injuries. Earlier, jackknifed trucks shut the southbound lanes of Interstate 95 in Greenwich, Conn. for several hours.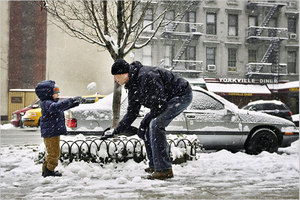 ©Jacob Silberberg for The New York Times
A snow fight on the Upper East Side.
The Port Authority reduced the speed limit to 35 miles per hour on the Outerbridge, Goethals and Bayonne bridges, which connect Staten Island to New Jersey.
Speeds were reduced on other bridges in New York City and some delays were reported on subways and buses in New York City and Long Island. In general, authorities in the region advised anyone who did not have to travel to stay home.
The storm stretched from northeastern Pennsylvania through New England, and transit delays are expected throughout the region.