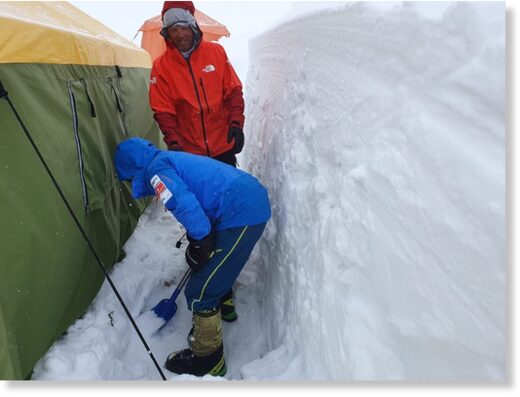 Constant snow falling on Manaslu has pushed everyone away. "[In the] last week we had almost

three metres of snow,
so we decided to get everyone down to Samagaon, all the Sherpas, all the climbers, the whole group," Simone Moro reported on Saturday.
Two helicopters evacuated most of the expedition members, although a few, including Sophie Lenaerts and Stef Maginelle of Belgium, walked down to the village. "The descent from Base Camp was a bit dangerous because of snow slides," they reported.
"[Of all my] 21 winter expeditions, this one is proving to be particularly hard," Simone Moro admitted.
Unlike the rest of the climbers, who settled in Samagaon, Alex Txikon, Moro, and two others flew all the way back to Kathmandu. Here, they are arranging to fly a resupply of oxygen and cooking fuel to BC. They themselves will wait for conditions to improve before returning to Base Camp. "This is not possible at the moment," Moro wrote.