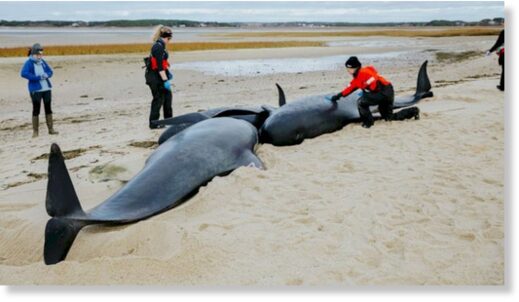 After three days trying to save several beached pilot whales in Cape Cod, rescuers' efforts came to an end Wednesday.
Six whales were found stranded on an Eastham beach on Monday afternoon. Rescuers' efforts to get the whales back in water in the high tide were initially successful, but they found the youngest whale dead on Tuesday and then discovered four of the other whales had turned back toward the shore and gotten stranded again.
Misty Niemeyer, an animal rescue officer and stranding coordinator with the International Fund for Animal Welfare, which led the response, said they were cautiously optimistic about the effort but in the end it was not possible to save those four whales that re-stranded. She said all of them were in poor health and were located in an area where it was hard to work. That combined with today's gale force winds and high tide after dark led veterinarians and biologists determine the best course of action was to euthanize the whales.