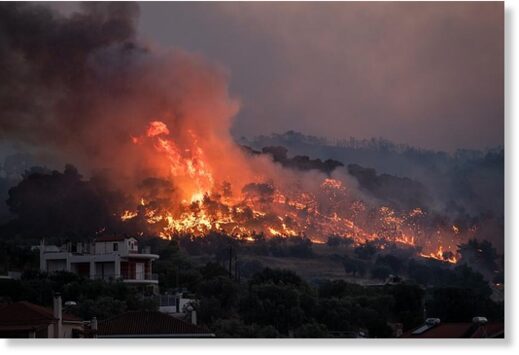 Fires are raging in Greece with efforts continuing to put them out.
A blaze at the popular spa area of Loutraki, Corinthia prefecture, was placed under control after it broke out at a forested area.
Fire Brigade operations were successful and managed to save evacuated homes in the area caught in the line of fire.
The Drassa settlement in the Corinthia prefecture was evacuated on Thursday as the fire that started on Wednesday at Kehries is burning "out of control," Corinth Mayor Vassilis Nanopoulos told the Athens-Macedonian News Agency (ANA-MPA), adding that a summer camp t Sofiko was also evacuated.
Mayor Nanopoulos requested that the government and the Peloponnese Regional authority declare the municipality in a state of emergency as 268 firefighters with 61 fire engines and 15 grounds teams battled the blaze and high winds created multiple pockets of fire.