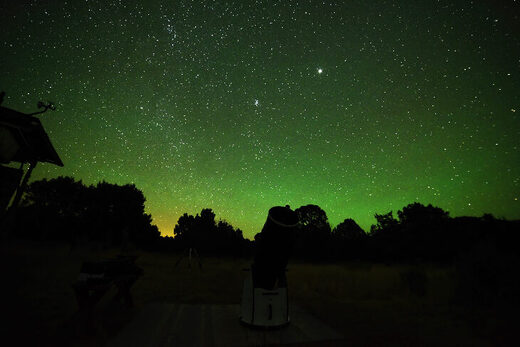 WHAT ARE MYSTERIOUS 'BRIGHT NIGHTS'?
A phenomenon
rarely seen in centuries
might have just appeared in the night sky over Colorado--a "Bright Night." Philosophers and scientists have reported Bright Nights for literally thousands of years. It's when an otherwise dark and moonless night fills with a soft glow, allowing observers to see distant mountains or read a newspaper.
Pliny the Elder, an Army commander in ancient Rome, described the phenomenon as a "nocturnal sun" (~ 113 BCE).
In the modern world, Bright Nights are seldom seen. Most of our planet's human population lives in cities, and even rural landscapes are somewhat lit by distant urban bulbs. The "nocturnal sun" has been overwhelmed.
Or has it? Enter Aaron Watson, an experienced night-sky photographer who regularly visits the darkest of dark-sky sites in remote parts of Colorado. On multiple occasions this year he has photographed red auroras and green airglow invisible from any ordinary countryside. Last month, he was at one of his favorite inky-dark sites when he may have experienced a modern Bright Night.